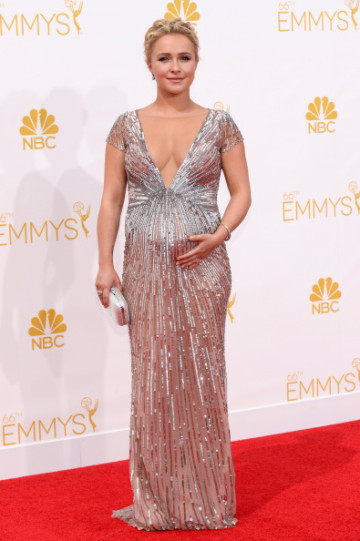 Hayden Panettiere has confirmed she is expecting a baby girl. The Nashville actress accidently let the cat out of the bag on the red carpet at the 2014 Emmy Awards.
Speaking to E!'s Giuliana Rancic about becoming a first-time mother, the 25-year-old actress unexpectedly referred to her and fiancé Wladimir Klitschko's unborn child as a 'her'.
"I'm thrilled for her to come out," she told the host, before adding: "I just said that, didn't I?"
She went on to reveal that while she was looking forward to motherhood, pregnancy hasn't been plain sailing.
"I've never felt this amount of weight on me,"Panettiere added.
"The only thing that's difficult is making sure that it's tucked away."
Dressed in a glittering Lorena Sarbu gown , the pint-sized beauty was among the presenters handing out awards at the Nokia Theatre in LA.
The unexpected gender revelation comes just days after the former Heroes' star confirmed her pregnancy in a video for her ALS Ice Bucket Challenge.
"I accept my ALS Challenge. I renominate Kacey Musgraves - you're not getting out of this, Wladimir Klitschko and my unborn child," Panettiere told the camera before Nashville co-star Derek Hough poured the chilly water over her head.