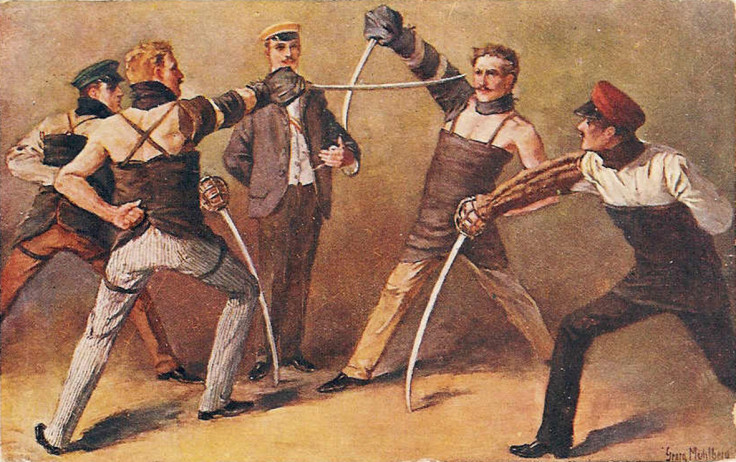 Voters in Oregon may get the chance to reverse the 172-year-old ban on duelling at the next US general election.
Since 1845 any person who engages in a duel has been prohibited from entering political office. It's one of many archaic laws that Republican Senator Brian Boquist wants to erase from the state's constitution.
The original ban was passed in just 30 minutes after the legislature became wary of public officials settling their disputes with pistols.
The ban stems from a fateful summer day on 11 July 1804 when US Vice President Aaron Burr shot and fatally wounded the nation's first treasury secretary, Alexander Hamilton at Weehawken, New Jersey. Hamilton died the next day. The duel arose from long-standing personal bitterness between the two men over several years.
Boquist told Associated Press: "They [the legislators] decided that it would not be very civil if two members of the legislature disagreed and then shot each other on the front steps of the provisional capital."
The senator is aghast at the number of outdated laws that he claims will eventually "catch up" with the legislature and over-burden them.
"I want you to know that most of your stationery is probably in violation of the law because we have a constitutional clause as to how we can use our stationery," he said.
Officials are said to be sympathetic towards Boquist's cause but repealing these dusty statutes is not straightforward. Any constitutional changes will have to be brought before the citizens of Oregon before they can be passed.
This means that the proposal may find its way into the ballot box in 2020 when they consider whether or not Donald Trump should enjoy a second term.
Oregon Progressive Party spokesman Dan Meek spoke out against the proposal. He said: "This resolution would allow the candidacies of persons who give or accept challenges to fight duels."
"Also, there is a cost to removing obviously unenforced and unenforceable provisions in the Oregon Constitution, including the cost of processing and printing this resolution on millions of ballots and processing the results," he added.