Endearing baby giant armadillo dies in agony in puma attack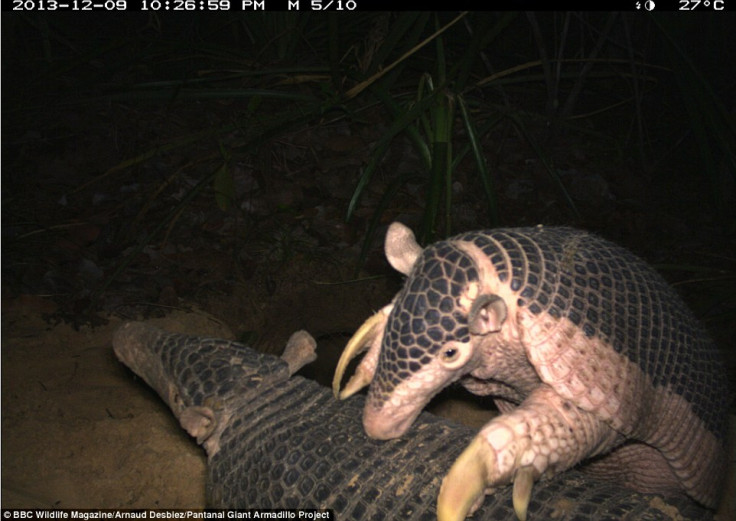 A rare, beguiling baby giant armadillo who enthralled scientists who watched him snuggle with his mother has died at the age of two.
The armadillo, named Alex by the researchers who tracked him to learn more about the mysterious species, was apparently attacked by a puma and died of his injuries days later, said heartbroken scientists. He was found dead in his mother's den in the Brazilian Pantanal, a gaping wound between his shoulders.
"He managed to escape the predator, but suffered a deep wound between the shoulder blades. Too weak, he sought refuge in an old burrow and did not have the strength to even dig," Arnaud Desbiez, the head of the Pantanal Giant Armadillo Project, told the Guardian. "He died inside the burrow after agonising for two days. I could not believe this was happening. I was in total shock."
Alex and his mom Isabelle taught researchers about a surprisingly strong mother-baby bond among giant armadillos. Alex spent a year with his mother in her den and remained close to her until his death.
So little is still know about the animals that can weigh more than 30 kilograms, grow longer than 1.5 metres and sport six-inch claws. Alex was the second young giant armadillo researchers have tracked. His mother gave birth before Alex to an infant that was quickly killed by a male as he attempted to mate with Isabelle.
"The general public does not know this species exists or when shown a picture believe it is already extinct," said Desbiez. "This should be considered a threat as the species could become extinct without anybody caring."
© Copyright IBTimes 2023. All rights reserved.