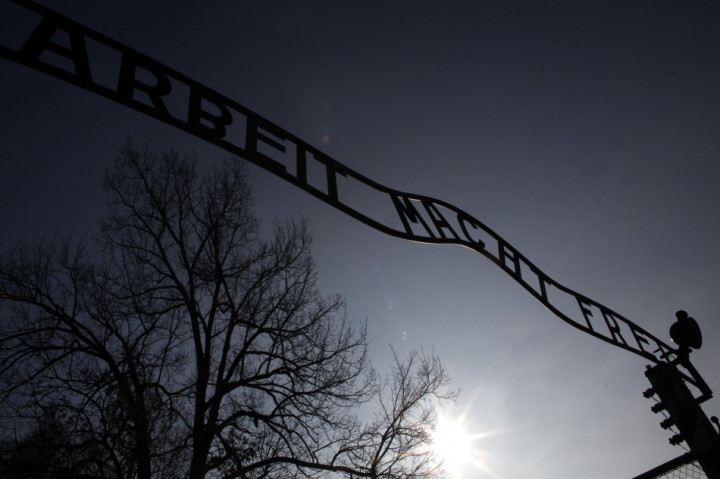 Before their first Euro 2012 game against France, the England football team are to visit Auschwitz, near their Cracow-base in Poland, following the Italy and Holland squad's visit.
The visit takes place against a backdrop of racial tension in the host nation that looks to dog the tournemount, with the Dutch squad having already reported racist chants aimed at their players during a training session.
It is hoped the trip will give players some perspective before the tournament, but also be beneficial to British children who will be watching the tournament at home.
David Bernstein, Chairman of the FA said about the visit. "There are so many lessons to be learned and understood, and we believe football can play its part in encouraging society to speak out against intolerance in all its forms."
More than two million people were murdered in the Auschwitz camp complex and it stands as a reminder for people around the world of the monumental evil that can be triggered by extreme prejudice. As the England players will hopefully take something from their visit to the infamous Nazi death camp, IB Times UK looks at some other horrific and heroic times when Nazism and football have met.
The Death Match
One of the most famous examples of when football and heated political tensions collide occurred in the Nazi-Occupied Ukrainian capital of Kyiv (Kiev) in 1942 when a team made up of German Luftware pilots, and FC Start, a team of former Dynamo Kyiv and Lockomotyv Kyiv players who worked together in a bakery during the occupation.
Held at the Zenit Stadium, the 'Death Match' was well publicised and seen as way to demonstrate normality to the residents of Kyiv, living under the boot of the Nazi occupiers.
As the crowd was full of SS and high-ranking German officers, the FC Start players were not only required to give a Nazi salute before the game (a move they rejected and instead choosing to shout the Soviet slogan) but were also well advised to lose it.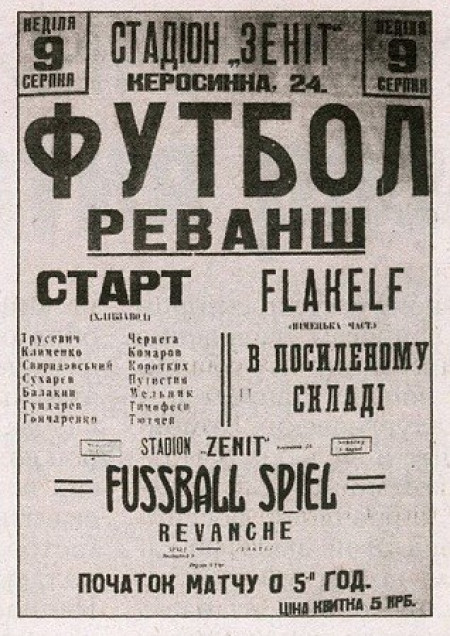 Ignoring all threats and battling through violent challenges, blatant fouls and biased refereeing from the opposition, FC Start went on the win the game 5-3, humiliating the 'Aryan supermen' in the process.
What happens next has been mythologised down the years. A number of players from FC Start were sent to concentration camp in Siretz, tortured and murdered. People believe to this day this was because they were victorious in the doomed football game, a suggestion which some historians doubt.
FC Start winger Makar Goncharenko dispelled the myth himself saying the players, "died like many other Soviet people because the two totalitarian systems were fighting each other, and they were destined to become victims of that grand scale massacre. The death of the Dynamo players is not so very different from many other deaths."
However, The 'Death Match' became a popular legend in the Soviet period and inspired films and books. The 1981 American film Escape to Victory starring Michael Caine, Sylvester Stallone.
It also starred football superstars Booby Moore, Pele and Osvaldo Ardiles.
England's Nazi Salute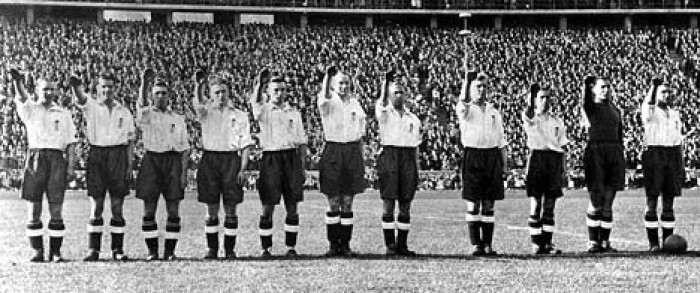 Arguably one of the darkest moments in England's football history occurred at Berlin's Olympic Stadium in 14 May 1938.
Before a friendly against Germany, a combination of the Football Association and the Foreign Office ordered the England team to give a Nazi salute to the crowd in a horrific act of appeasement towards the Third-Reich, which prime minister Neville Chamberlin and British Ambassador to Germany Sir Neville Henderson had been pushing at the time.
While high-ranking Nazi dignitaries such as Goebbels, Goeing and Ribbentrop were in the stands to watch captain Eddie Hapgood and legendary Stanley Mathews give the Nazi salute, Hitler, who reportedly hated football, was not one of the 110,000 spectators in the stadium that day.
Hapgood would later reveal: "I've been in a shipwreck, a train cash, and inches short of a plane crash but the worst (thing) of my life was giving the Nazi salute in Berlin."
While the majority of the England football team reluctantly raised their right arm in salute, one player refused: Legendary Wolverhampton Wanderers player and manager Stan Cullis.
Following this act, Cullis was dropped from the England national team and was never able to add to his 12 caps.
During one of the rare occasions the actually game pales in insignificant to the event, England beat their hosts 6-3.
Bert Trautmann
When this German goalkeeper arrived at Manchester City in 1949, he was met with 20,000 angry protesters furious the club had signed a former Luftwaffe paratrooper who held an Iron Cross - adding to the offence was the former POW replaced that one of Man City's greatest ever goalkeepers, Frank Swift. But by the time he left the club 15 years later, he overcame prejudice and hostility to become a much-loved icon, cemented by acts of bravery and dedication which will probably never be seen in the sport again.
Trautmann gained entry into British football folklore after his heroic appearance for Man City at the 1956 FA Cup Final against Birmingham City. With Manchester City leading 3-1 with 15 minutes to go, Trautmann bravely dived to save the ball and collided with Birmingham striker Peter Murphy, resulting in the keeper being knocked unconscious.
With no substitutes allowed in those days, Trautmann was forced to carry on regardless, only finding out three days later he played the remaining quarter of an hour of the match with a broken neck.
Trautmann played a total of 545 games for Manchester in a 15-year-period before moving onto management. He was awarded an OBE for 2004 for his work in Anglo-German relations.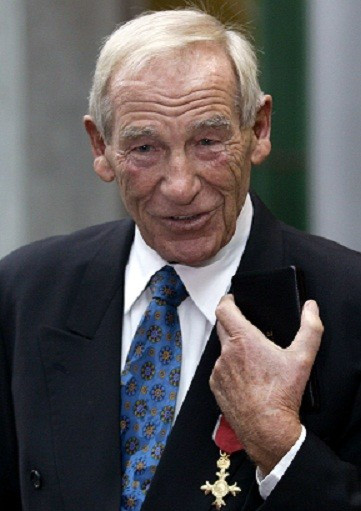 'JudenKlub' Bayern Munich
Bayern Munich have been one of the most dominant teams in European football for a number of years, with the German giants reaching this year's Champions League final, which some say they were unlucky to lose.
But apart from the domestic and European titles Bayern have collected throughout the years, there is also another significant part of their history that, until recently. Was destinied to be forgotten.
Founded in 1900, the club was very much considered a 'Jewish club' having both a Jewish president and several Jewish managers, including Richard Dombi, who lead the team to their first championship in 1932.
When the Nazi's seized power just a few months after their title, club President Kurt Landauer and several other staff members were forced to resign. Landauer was arrested and spent 33 days in the Dachau concentration camp.
Despite being labelled as a Judenklub by the Nazis, the club still managed to battle against adversity and resist Nazi takeover. In 1934, Bayern players were involved in a huge fight against Nazi brownshirts and Bayern winger Willy Simetsreiter purposely antagonised the Nazis by having his picture taken with Jesse Owens, the US black athlete who won four gold medals at the 1936 Berlin Olympics with Hitler watching
However, the most poignant and symbolic moment came in 1943, when after a friedkly against the Swiss national team, the Bayern players turned to wave at the exiled Landauer in the crowd, enraging the Nazis rulers of Germany.
The club were cagey about their Jewish history in recent years, with one press officer telling a journalist "we are not interested in these things" when asked about their Jewish heritage in 2001.
That has now changed, with star players in the 70s and 80s and current chairman Karl-Heinz Rummenigge referring to Landauer as "the father of the modern FC Bayern" and he club donating money to Jewish amateur club TSV Maccabi Munich in 2010 so they could build a pitch, which also bears Landauer's name.