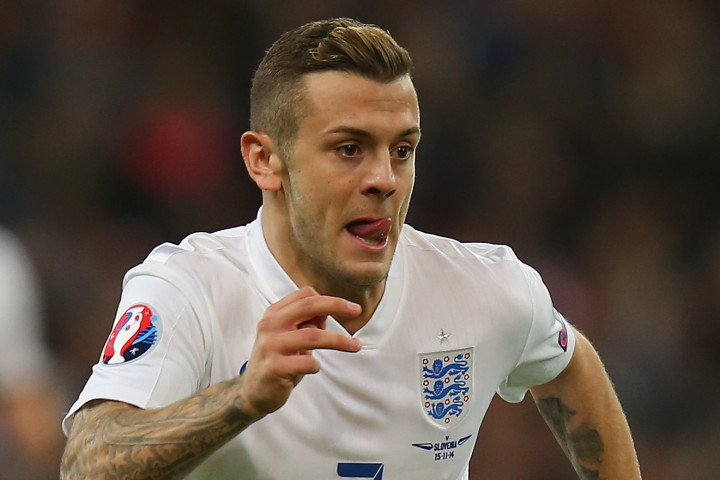 England and Arsenal midfielder Jack Wilshere is relishing the prospect of Scotland bringing a physical approach to their international friendly meeting at Celtic Park on Tuesday.
Gordan Strachan's side out-muscled the Republic of Ireland in the European Championship qualifier last Friday, settled by Shaun Maloney's superb late winner, and welcome England off the back of one defeat in their last 10 games.
England manager Roy Hodgson says he will choose a full-strength side in the Three Lions' first game north of the border since 1999 and though Joe Hart will be rested, Wilshere is unwilling to pass up the opportunity to play in international football's oldest fixture.
"I'm desperate to play," he said. "They are the games that every England player wants to be playing in.
"You ask any member of my family or anyone who knows what it's like and they'd never forgive me if I didn't play. They will always say, England-Scotland, that it's going to be a great atmosphere. I want to play in that.
"For me, it's going to be a bit tougher than the Slovenia game; they'll be a bit more up for it on their home ground so we'll be ready for it."
Wilshere's comments are likely to infuriate Arsenal boss Arsene Wenger, who has constantly urged caution over the 22-year-old's fitness with the player having spent lengthy spells out with ankle trouble.
Wenger has even attempted to withdraw Wilshere from previous England games such is his apprehension over the player's fitness, and the Frenchman's concern is likely to be heightened ahead of the visit of Manchester United upon the resumption of the Premier League on Saturday.
Scotland face England for the 112th time in internationals and Wilshere says such is the intense rivalry the atmosphere will be akin to a domestic local derby.
"Of course [Scotland v England] has the same meaning," he added. "We've got a manager who has been around for a few years and he knows what England-Scotland means.
"He's given us a speech about England-Scotland and told us that, back in the day, it was the highlight of the season.
"It's not going to be very friendly. We've got to be ready for that. It'll be a bit like Arsenal-Tottenham, Liverpool-United, but we're used to that as players.
"We played them at Wembley a couple of years ago and it wasn't the friendliest then so we know what we're in for."