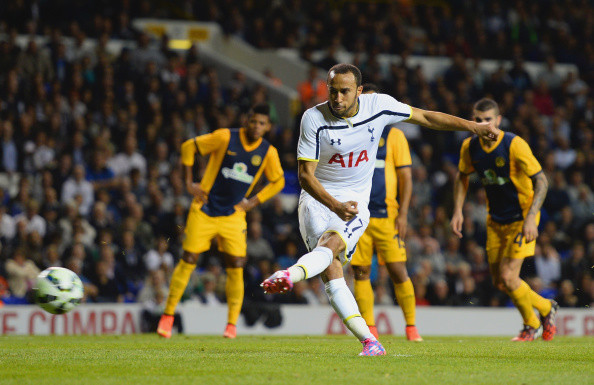 Tottenham Hotspur star Andros Townsend has withdrawn from the England squad to face Slovenia and Scotland due to a minor injury, the FA confirmed.
The Spurs winger played 45 minutes for Mauricio Pochettino's side during their 2-1 defeat against Stoke City on Sunday and, according to the FA, had already arrived for training with the national side carrying the injury on Monday.
"Andros Townsend will today leave the England squad and return to his club. Townsend reported for duty on Monday with a minor injury and will go back to Tottenham Hotspur for further treatment," the FA posted on its website. "He will miss England's games against Slovenia and Scotland."
It is the second injury blow for Roy Hodgson after Manchester United midfielder Michael Carrick was also pulled out from the squad on Wednesday.
Townsend's injury means a further setback for under-pressure manager Pochettino and the winger himself who has struggled during the present campaign to secure a place in the new manager's line-up.
The new comes after the Tottenham boss received a huge boost on Wednesday with the return to training of long-term injury Kyle Walker.
The England international right-back suffered an injury in the 3-1 home defeat to Benfica in the Europa League in March and has since been unable to play.
Even though it is still uncertain whether he will be ready for the game against Hull after the international break, Walker has expressed his delight about his recovery: "It's great to be back out there with the lads."
"I'm taking it one step at a time, doing things correctly as I've been told and I'll see where I am in a couple of weeks. Everything is good at the moment. I'll be even happier when I'm back playing but that's the final step."