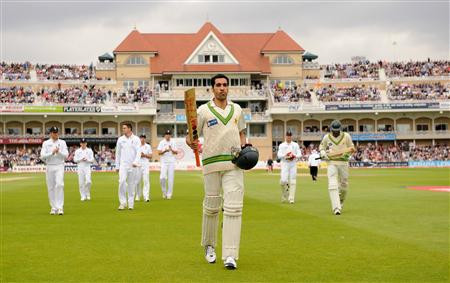 England have started to gain some confidence after yet another shaky start against Pakistan, as the first test enters its third day.
England looked to be on top of things at the close of play yesterday with a first innings total of 354 and Pakistan down to one wicket at 147/9 and facing a possible follow on.
However Pakistan's Umar Gul was intent on saving some of his nation's batting honour and hit England's batsman all over the ground, scoring 65 off 46 balls, making him the visitor's highest scorer despite being the number nine batsman.
However the innings came to an end with Pakistan on 182 and England took to the crease once again.
Again things started badly after captain Andrew Strauss went for a duck after just three balls after a ball was fumbled and then caught by Kamran Akmal following a bowl from Mohammad Aamer.
Alastair Cook followed soon after, scoring only 12 runs after being caught out by Kamran Akmal off a ball from Mohammad Asif.
At the end of the first session South African imports Jonathan Trott and Kevin Pietersen were at the crease on 18 runs each with England at 49/2 and both were starting to look a little more comfortable after initially appearing nervous against Pakistan's bowlers.