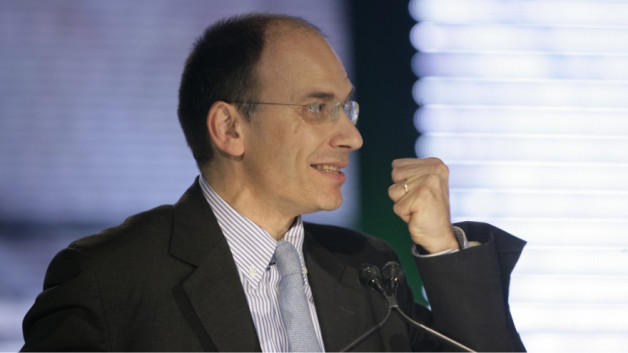 Enrico Letta, the deputy leader of Italy's centre-left Democratic Party, said on Friday he had reached a deal to lead a coalition government, ending two months of political deadlock that followed the general election.
Letta met President Giorgio Napolitano to inform him an accord had been reached clearing the way for the government to be formed following talks with former prime minister Silvio Berlusconi and members of his centre-right People of Freedom party (PDL).
One of Berlusconi's closest allies, PDL secretary Angelino Alfano, will become both deputy prime minister and interior minister in the new regime, giving the centre-right a powerful voice at the heart of the administration
"I hope that this government can get to work quickly in the spirit of fervent cooperation and without any prejudice or conflict," said President Napolitano. "It was and is the only possible government."
Bank of Italy director general Fabrizio Saccomanni will head the economic ministry, while former European Commissioner Emma Bonino will become foreign minister.
The government, which Letta said would contain a record number of women ministers, will be sworn in on Sunday.
Letta, 46, is expected to go before parliament to seek a vote of confidence on Monday after spending more than two hours in talks with Berlusconi on Saturday.
Berlusconi himself will not be a member of the government, but will play an important backstage role.
Wrangling over ministerial posts and policy differences had delayed efforts to reacvh a deal, holding back efforts to end the longest recession since World War Two.
Italy, the euro zone's third largest economy, has been without an effective government for months, with the post-election deadlock unnerving financial markets in the aftermath of February's inconclusive election.
Negotiations between the PD and the PDL were believed to have included Berlusconi's controversial proposal to scrap a property tax introduced by outgoing prime minister Mario Monti as part of efforts to reduce Italy's debts.
Letta, 46, who is on the right of the PD and who is the nephew of one of Berlusconi's closest aides, said he plans to shift the focus away from austerity, and spoke of his "sober satisfaction over the team we put together".
Recent polls have shown Berlusconi's popularity increasing, despite the charges of tax fraud and sex with an underage prostitute against him, which he contests.