Amidst all the upheaval of the recent general election, with some of the biggest beasts in British politics being ousted and a throng of young pretenders flocking to take their places, one of the most colourful MPs of them all slipped quietly into the night.
Eric Joyce had already decided not to run again. After 15 years as MP for Falkirk West, first with the Labour Party and latterly as an independent, he had resolved to end a sulphurous political career which in recent years has plumbed the depths of arrest and disgrace.
A former army officer, Joyce had the honour of serving as a Parliamentary Private Secretary between 2003 and 2009, before resigning over his opposition to the war in Afghanistan. He also persuaded the Treasury to change the laws on child benefit to help disadvantaged Scottish teenagers, and earned acclaim for his interest in Africa, becoming the first European lawmaker to address the newly-formed Parliament of Congo in September 2008.
Yet these achievements are generally forgotten when people talk about Joyce. For the past few years his parliamentary work has been overshadowed by a seemingly never-ending spate of scandals and innuendo which have turned his life into a soap opera, and ultimately forced him to announce he was stepping down from Parliament in the run-up to the 2015 election.

Eric Joyce: The life and times of one of Britain's most colourful politicians.
Born 13 October 1960.
Lived much of his childhood in Perth, and joined the army as a private in 1978.
Rose through the ranks of the military and was promoted to the rank of Major in 1992.
Resigned his commission in 1999 and entered parliament following the Falkirk West by-election a year later.
Served as a parliamentary private secretary between 2003 and 2009, when he resigned over concerns regarding the war in Afghanistan.
Lost the Labour whip in 2012 after a brawl in a House of Commons bar. Subsequently served as an Independent.
Announced he was standing down from Parliament before the 2015 election.
Joyce's financial affairs have been a frequent source of speculation. Just last week, in fact, a report by Parliament's expenses watchdog claimed misuse of his official payment card was "fairly consistent" after it was issued in 2010.
Joyce, who was once a member of the expenses watchdog himself, was named as Britain's most expensive MP in 2009 and subsequently made headlines by allegedly claiming for designer glasses, iPods and gourmet bacon baps.
Then there were the allegations of an affair with a 17-year-old girl, claims Joyce vehemently denied, and, most damaging of all, the string of violent confrontations which cost the MP his place in the Labour party.
Joyce lost the Labour whip in 2012 after punching and headbutting four fellow MPs in a House of Commons bar, an offence for which he was also fined £3,000 and banned from bars for three months. He was detained in police custody after another confrontation in a different Commons bar, exactly 12 months later, and earlier this month he was found guilty of 'unprovoked' assault on two teenagers in a Camden shop. In March last year he was fined £1,500 for breach of the peace for what was described as a "drink-fuelled rant" at Edinburgh airport.
Yet when you speak to Joyce he is measured and softly-spoken, a far cry from the tabloid caricature of a pugilistic chancer. When IBTimes UK asks him about his turbulent recent past, he is candid, happy to answer any question but showing no sign of aggression when the questions are put forward. It seems he is eager to give his side of the story.
On the expenses allegations, Joyce is forthright. He says: "I have several published apologies from newspapers who didn't even bother to read the claims.
"MPs cannot claim for glasses for themselves, but staff with a medical condition can be provided with computer screen glasses as a Health and Safety requirement of their contracts, the contracts are produced by IPSA, not MPs.
"MPs (unlike everyone else) cannot claim for food in respect of overnight stays away from home. The 'gourmet' bacon bap is nonsense. No claims for iPods have ever been submitted and nor would they be paid. I have for some years, been the lowest claiming MP from Scotland."
'I'm not averse to a ruck'
Yet when we turn to the violence, Joyce is more willing to accept culpability -- up to a point.
Of the 2012 assault, he says "the reports are accurate, I pleaded guilty." However the second incident a year later was a "profound mistake" on the part of the police. Joyce claims he'd gone to the bar because it had been 12 months since the initial incident, and walked into a fracas. "I had a reputation by that point, and when the police walked in there they put two and two together and made five."
What caused the red mist to descent during that first brawl? "Having had a drink [I was] annoyed by loud young Tories being loud young Tories, but they were just being normal," Joyce says. "The Strangers' bar had become a bar that Labour used but the Tories were in there. It wasn't their fault."
Describing his mentality, Joyce says "I was feeling particularly aggrieved and had had a drink. Alcohol and a Scotsman with a grievance is a bad combination."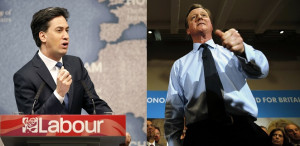 I ask if the grievance had anything to do with events on the floor of the Commons; had Ed Miliband, David Cameron or anyone else riled him? No, says Joyce. He was simply frustrated about his own career, unable to comprehend why he hadn't slithered further up the greasy pole.
The incident in a Scottish airport is described as a heated verbal exchange with the police, after Joyce had left his phone on the plane, and he insists he did nothing improper or excessive. In Camden "there were two youths who I thought were being unreasonable in the shop, and I grabbed them. The court decided I shouldn't have thrown one of them to the floor, which I did, and they thought I should have let them run away.
"Most people would have backed away but that's not my style. I'm not averse to a ruck and I thought this situation needed handling."
Some have suggested that Joyce had a problem with alcohol. Given the fact that two of the incidents occurred in bars, and one was described as 'drink-fulled,' it's easy to see where the rumours came from.
Joyce is honest when I put this to him, saying: "I think, by definition, if you whack someone in a bar there's an alcohol problem involved. Not by the world-class standards of Westminster drinking, but there was a problem."
However, Joyce says he has made a lot of changes since then, in an attempt to fight his demons. "I drink much less, I don't go to places I don't like, I don't talk to folk I don't like talking to. I keep myself to my friends. I also did anger management, and I found it quite helpful. I found anything like that quite helpful."
'Often researchers are responsible for violence in the Commons'
Do other MPs get into scrapes like Joyce? "They probably get a wee bit of a tussle here and there from time to time," he says, "but in the Commons they are relatively rare. Alcohol's often the root cause, but there's a lot of tensions. Often researchers [are the ones who cause the problems] because they can be more overt in their views."
According to Joyce, the network of bars buried in the catacombs of the Commons are fiercely territorial, with battle-lines clearly delineated.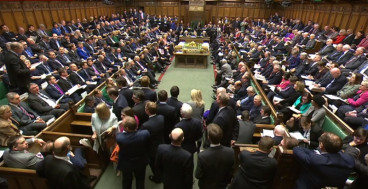 "It's the sort of thing that might go on between rival football supporters. The speaker has always tried to stop [the segregation] happening but Labour tend to colonise the Speaker's Bar and the Tories colonise a social room upstairs with a bar in it, the Smoking Room it's called. There's a different feel in each of those. You want to be sensitive to the feel of the place.
"The Sportsman's Bar will now be the preserve of the SNP and they'll use this to make a political point. It's more the bar for people who work there, as well as some MPs. They'll be the fun ones, but also the folk who are more likely to socialise with the workers. There'll be some tensions and naturally there are often underlying personal tensions as well."
Joyce, of course, is far removed from these tensions now. He is currently writing a book and is a member of the UK Extractive Industries Transparency Initiative, or EITI, a multi-stakeholder group dedicated to promoting good governance and transparency between host governments and companies in the extractive sector. After a difficult few years, he is upbeat about the future.
Yet that sunny disposition momentarily darkens when I ask him who will be 'the next Eric Joyce' in parliament.
"I hope no-one will," is his terse reply.