Eric Molina vows to surprise Britain in IBF heavyweight title fight against Anthony Joshua
The defending champion, meanwhile, has pledged to make his opponent look like a novice in Manchester showdown.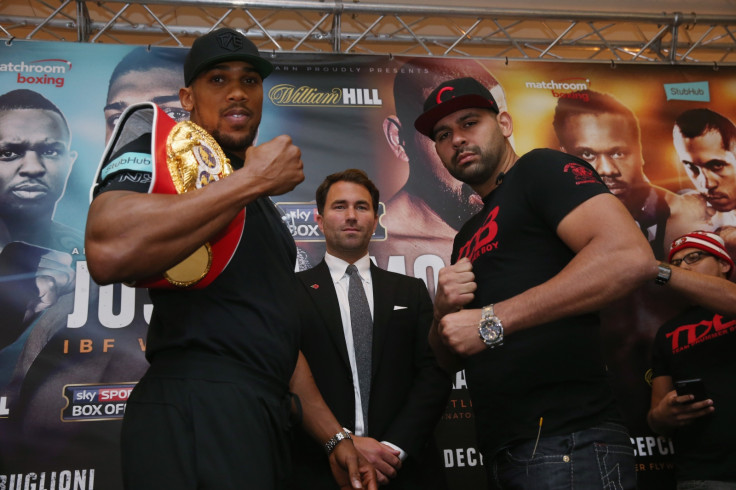 Eric Molina is aiming to stun Britain when he challenges Anthony Joshua on Saturday night (10 December). 'Drummer Boy' will enter the Manchester Arena ring as the second challenger to the IBF heavyweight belt that his opponent took from Charles Martin before successfully defending for the first time against Dominic Breazeale in June.
"I've had to deal with a lot of tough things and face a lot of hard things that Anthony Joshua has no idea about," the American was quoted as saying by BBC Sport during Thursday's final pre-fight press conference. "These are things that make me a stronger and more dangerous fighter. All of Britain and him will be surprised on Saturday night. Very surprised."
After Joshua then pledged to make Molina look like a novice, he added: "You have to do that. If you slip-up one second you'll be dancing and the world will be talking."
The 34-year-old Molina, who balances a boxing career with his role as a full-time special education teacher at Johnny G Economedes High School in Edinburg, boasts 25 wins from his 28 professional fights to date. He suffered a swift defeat on his pro debut against Ashanti Jordan nine years ago and was later knocked out in the first round by Chris Arreola.
He was also stopped in the ninth by WBC title-holder Deontay Wilder in the champion's home state of Alabama in June 2015 before travelling to Krakow and bouncing back with a 10th-round KO of former two-weight world champion Tomasz Adamek.
Joshua had originally hoped to face Wladimir Klitschko this winter, only for a prospective high-profile bout to be pushed back to spring 2017 due to a minor injury sustained by the Ukrainian in training. While Molina is not expected to pose a significant threat to his crown, the methodical 2012 Olympic gold medallist is clearly not underestimating the task ahead in the knowledge that a shock defeat would almost certainly torpedo his substantial plans moving forward.
"Training has gone well, hard, but well. I'm getting more experience so understand the importance of training hard," he said. "I'm physically in the best shape I could be. Of course he has to train so I'm not worried what he is doing. I'm glad he is healthy, God willing I manage to do my job and crush him. It is a breaking down job, everyone is sharp in rounds one, two three, but it is about being clever. Later on in the rounds I will start breaking him down.
"We are bringing currency back to heavyweight boxing, and respect back to the division and everyone wants a piece of it. Training is not about preparing for Eric, it is only going to get tougher so we train as if we are preparing for five fights' time. I will make him look like a novice."
Speaking to Sky Sports, he added: "If I can go and make him look like a kid I'm going to play with him, then feed him to the lions. As many people as there are who want me to win, there are the same that want me to fail. There's eyes looking from every angle. The main thing is I don't watch any face. I stay focused."
© Copyright IBTimes 2023. All rights reserved.