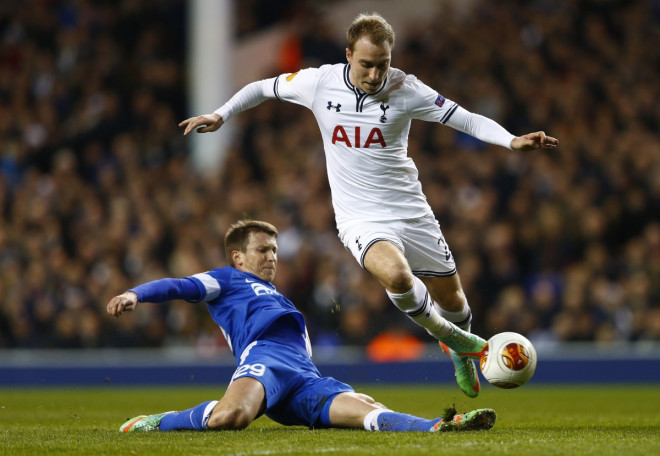 Christian Eriksen believes Tottenham Hotspur can gain momentum in their push for a top four place by beating Chelsea at Stamford Bridge in the Premier League on Saturday.
The Danish international is fresh and raring to have a go against Jose Mourinho's side after missing out on Denmark's international friendly against England last Wednesday with a back spasm.
However, the 22-year-old understands that Spurs need to improve their game if they want to break into the top four and fulfil their aspirations of bring Champions League football to White Hart Lane next season.
Tim Sherwood's side narrowly defeated Cardiff City at home in their previous league fixture and Eriksen desires to come away with all three points against the Blues. Spurs currently sit fifth in the league table with 53 points and have 10 games in hand to prove their Champions League credentials.
"A win would show everyone that we are top-four contenders, it would show we are still in the race, that's what we want. If we want to get to the top four we have to win these games, and that's what we'll try to do," Eriksen explained.
"But we still do also know we have to play better to beat Chelsea, or Arsenal, we know that. If we win again it's so close that anything can still happen. Everybody still has the focus to push towards the Champions League, and hopefully we'll get there.
"I hope we've got momentum now, you only gain confidence from winning. All that matters at this stage is the points, it doesn't matter how you win, we saw that against Cardiff. It wasn't pretty, but we won," he added.
The former Ajax midfielder is no stranger to Europe's coveted club competition, having featured with the Eredivisie outfit in the past.
Spurs currently compete in the Europa League and have progressed to the last-16 of the tournament where they will face Portuguese side Benfica.
"The Europa League is great, but the Champions League is what everybody wants, it's the best place to play. I think it is important for the club, and the calibre of player that could come, or stay. I think everybody wants to go to the Champions League. I've tried it before at Ajax, and you see everything is bigger, the atmosphere, the TV rights, the people watching," Eriksen concluded.