EXCLUSIVE: Eritrea's Football Coach Omer Ahmed and Eight Players Defect to Kenya During Cecafa Cup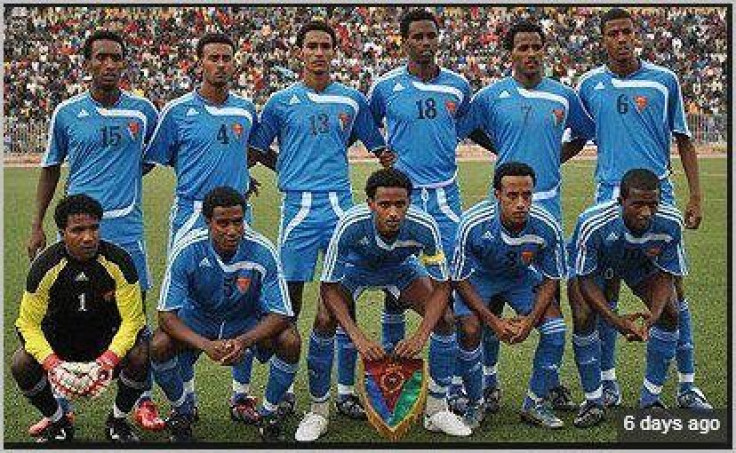 The coach of the Eritrean national football team Omer Ahmed and eight of his players have disappeared in Kenya in order to defect, IBTimes UK can exclusively report.
The defection follows last week's disappearance of two members of the national team. The Red Sea Camels are in Kenya for the Cecafa Cup.
The players went into hiding in an undisclosed location in Kenya and are now seeking UNHR protection. "We are hiding because police from the Eritrean embassy are hunting us," one unnamed player told IBTimes UK. "The reason why we are fleeing is obvious and doesn't need to be repeated."
It is not the first time players from the national squad have defected abroad. Last December, 17 players and the team doctor claimed asylum in Uganda. In 2009, a dozen members of the national team disappeared in Kenya.
"Our main concern is safety, that's why we are seeking UN protection," the player told IBTimes UK. "Once we are protected and safe, we can go to a democratic and safe country."
The men also fear backlash back at home, where they have left family and children.
"We are really scared and anything scares us at the moment. We want people to know and sympathise with us," he said.
Eritrea is considered one of the continent's most opaque countries. National elections have not been held since it gained independence in 1993. The country is governed by the one-party authoritarian rule of President Isaias Afewerki, who has been in power for 20 years.
Torture, arbitrary detention and severe restrictions on freedom of expression are routine. Mandatory military service imposed on all men and women between 18 and 55 is one of the main causes of flight from the country.
It has been calculated that 4,000 Eritreans leave the country every month and, according to a 2008 estimate, 40,000 Eritreans live in Britain.
A recent study stated that between 2007 and 2012, some 25,000 to 30,000 Eritrean migrants were trafficked by Eritrean and Sudanese security officers, who collude with Bedouin gangs in the Sinai.
© Copyright IBTimes 2023. All rights reserved.