The ExoMars 2016 mission is set to arrive at the red planet, with the Schiaparelli spacecraft entering the planet's orbit and deploying a lander to the surface on 19 October. The European Space Agency (ESA) will provide a livestream of the entry and descent which viewers can watch above.
ExoMars is a joint venture between the ESA and Russia's Roscosmos space agency. It was launched in March this year and is the first of two missions to Mars. This 2016 mission involves the Trace Gas Orbiter (TGO) and the Schiaparelli Mission – the entry and decent of the Demonstrator Module. The latter is a precursor to the next Mars mission (ExoMars 2020), which will look for signs of extraterrestrial life – both past and present.
Events on 19 October will begin at 2pm BST, when the spacecraft will enter the orbit of Mars. Two programmes following the progress will be broadcast on the ESA's Facebook page and via Livestream. Atmospheric entry is scheduled for 3.42pm BST and the lander is expected to touch down on the surface of Mars at approximated 3.48pm BST.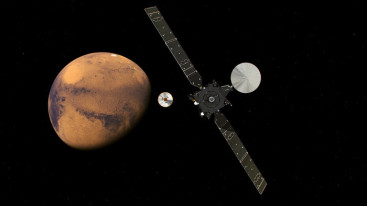 Speaking ahead of the orbital entry, flight director Michel Denis said there is no room for error: "They are now on a high-speed collision course with Mars, which is fine for the lander – it will stay on this path to make its controlled landing. However, to get the mothership into orbit, we must make a small but vital adjustment on 17 October to ensure it avoids the planet. And on 19 October it must fire its engine at a precise time for 139 minutes to brake into orbit. We get just a single chance."
People can also keep up with progress of the mission by following the ESA's Twitter feeds and its liveblog here. The following day, the space agency will release pictures of Schiparelli's descent, while a status report will be provided on 21 October.
ExoMars 2016's TGO will make "a detailed inventory" of the planet's atmospheric gases – looking for methane in particular. The presence of methane would indicate there is a current, active source, which could point to the existence of life when Mars was warmer and wetter billions of years ago. This part of the mission will begin in 2017.
The Schiaparelli lander will test a number of technologies – including the descent and landing – in preparation for the next phase of the mission: ExoMars 2020. This future mission will actively search for past or present life on Mars.