Crossing the Tigris River in a flimsy smuggler's boat with his family, Ali Ibrahim Ismail feared the worst. After fleeing their home in Islamic State (Isis)-controlled west Mosul, they were trying to reach the safety of the city's liberated east but he didn't know if they would make it there alive.
"We expected to be hit by an airstrike, or shot by Isis fighters for escaping," the 40-year-old labourer said of the terrifying journey. "But staying in west Mosul was by far a worse choice."
Three months into a campaign to retake Mosul, Iraqi Security Forces (ISF) now control the east side of a city that is divided by the Tigris River. Up to 750,000 civilians are believed to be still living in west Mosul under IS control, with humanitarian organisations deeply concerned for their safety.
Those who make the perilous journey out of west Mosul tell of forced conscription, prowling suicide bombers and execution on sight for families attempting to flee. And if the forthcoming battle to destroy IS in the city turns into a protracted siege there could be another pestilence: starvation.
"What finally got me was seeing my kids crying for food and being unable to feed them because I had no money," a gaunt-looking Ismail said of his decision to flee, speaking outside his tent at the Khazer displaced persons camp on Tuesday (24 January 2017).
The price of staple foodstuffs has increased beyond reach of many families in west Mosul since the military operation began last October. One kilo of sugar – an essential for a population addicted to sweet tea – has reportedly increased from 750 IQD (around 50 pence) to 15,000 IQD (£10).
Despite increasingly dire conditions, few families have left the west. Khazer camp – a cheerless grid of tents on a muddy plain, 20 miles east of Mosul - houses more than 5,000 Mosul families, but camp management estimates that just 25 of those are from west of the Tigris.
"Isis are killing anyone who tries to escape," said Abdelhaq Abdelqader, explaining why so few had left.
Sitting in a tent a few rows over from the Ismail family, the 37 year old explained how he had arrived the day before after a harrowing journey with his brother Saifuddin and their families.
After tricking an IS boatman to take them across the river to one of the few districts still under the control of the insurgent group, they still had to cross the front lines. The Abdelqader brothers, their wives, and a gaggle of their wide-eyed young children stole through an abandoned no man's land on foot. They were walking with another family but were separated from them in the confusion. "We heard later that IS caught the other family," Abdelhaq said. "Then they killed them."
The alternative to escaping had been starvation, Abdelhaq said. "I'm a truck driver - I used to take loads to Jordan, Syria, Baghdad and Basra. That all stopped. No work, no money, no food." His cab-driver brother had sold his car to buy food, but that money ran out too.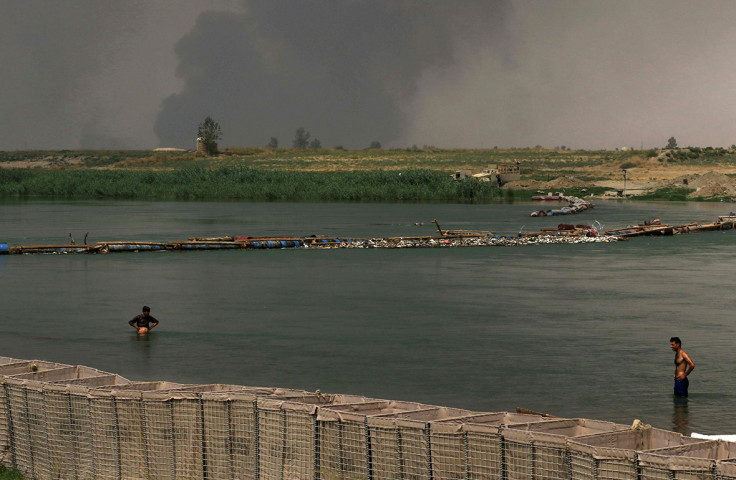 "Things went from bad to worse once the military operation began," Abdelhaq said. Food prices spiked and paranoia, already running high, intensified. "Their propaganda continued, but in your eyes you could see they knew they were defeated."
The suicidal fighters were now ready to bring the city down on top of themselves, he believed. "The fighters now walk around in crowds with suicide vests on. It's a message: 'if you try and escape I will blow myself up to stop you.'"
They're using kids as fighters, you see them in the streets. And the fighters confiscate the homes of anyone who manages to escape
Suicide car bombs also now patrol the streets. "When Isis hears that the army has started to liberate the west they will blow themselves up along with the civilians."
Meanwhile the fighters continue building fortifications, mining roads, building sniper's nests and erecting barricades. "They've made defences all along the river," Abdelhaq said. His younger brother Saifuddin continued the litany of distress. "They're using kids as fighters, you see them in the streets. And the fighters confiscate the homes of anyone who manages to escape."
Hours earlier, the brothers had received a call from a friend made on a clandestine cellphone: fighters had taken over their homes.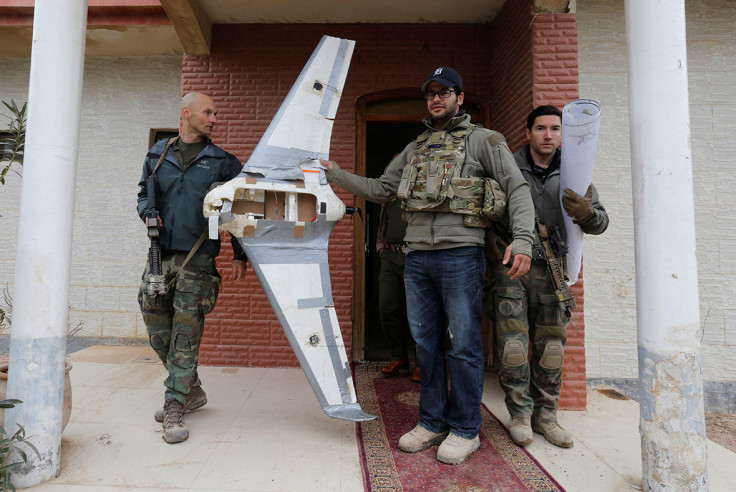 Abdelhaq estimated that just five percent of the population remains loyal to the group. If accurate, this suggests that thousands of die-hards remain to fight an ISF advance. Furthermore, forced conscription is also now reported as the group attempts to bolster their ranks.
"Last week, Isis members were going door to door taking men to fight with them," said Ismail, the labourer. "They want a young man from every family."
Earlier in the month, women dressed in the regulation black niqab face veil but armed with AK-47 assault rifles had paraded through the streets of west Mosul demanding that men join in the defence of the city, he said. "They were trying to shame men into joining up, hitting those who wouldn't fight and shooting at their feet."
The United Nations is now concerned that a protracted siege could cause further humanitarian catastrophe if the IS fighters maintain a sustained defence of west Mosul. "The reports from inside western Mosul are distressing," the UN Humanitarian Coordinator for Iraq Lise Grande told media earlier this week. "We know that they are at extreme risk and we fear for their lives."
"Everyone in west Mosul is afraid," Abdelhaq said.