Ethereum-funded feature film to disrupt movie industry
Braid partners with WeiFund and announces 7 June as date for token launch.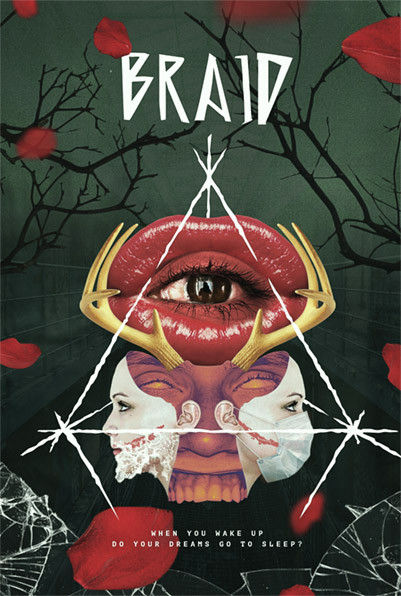 A psychological thriller titled Braid will be the first narrative feature film to be funded through a crowdsale using Ethereum. Director Mitzi Peirone and her production team are pioneering this new approach to film financing, with the mission of creating a more inclusive industry.
Braid has partnered with blockchain innovation studio ConsenSys and will use its award-winning crowdfunding platform WeiFund to raise the capital required to produce the film, beginning on 7 June.
Filmmaking has traditionally relied upon investments from wealthy Hollywood financiers or donation-based crowdfunding sites such as Kickstarter or Indiegogo. For emerging filmmakers, this is the choice between a rock and a hard place. Often large investors strip young directors of creative freedoms and are focused on the bottom line instead of artistic ingenuity.
Alternatively, independent filmmakers can resort to open crowdfunding platforms that reward fans with items such as t-shirts and posters, but aren't able to offer any financial upside. A film funded via Kickstarter can go on to make millions of dollars without its supporters sharing in the profits. The first of its kind, the Braidcrowdsale will enable and incentivise thousands of people to become investors and promoters of the film, and allow the Braidteam to stay true to its creative vision.
In addition, there's an upside to horror films as they can have lower production costs because the genre is built around emotionally intense situations that don't require costly big-name movie stars or complex special effects. In addition, horror films can be translated and distributed across broad demographics and regions as they aren't reliant on culturally specific norms and tastes, unlike genres such as comedy or romance.
Braid illustrates the power of imagination in creating reality as an extension of human consciousness. The story follows Petula Thames and Tilda Darlings, two self-proclaimed artists who moved to New York to follow their dreams. Instead, they become entangled in drug dealing and prostitution. One night they lose $80,000 of narcotics and are allotted 48 hours to repay a vengeful drug lord.
The young women hatch a plan to rob their wealthy childhood friend, Daphne Peters, who has grown into a dangerous schizophrenic agoraphobe, prisoner of the fantasy world the three created as children. In order to get close to Daphne, Tilda and Petula must take part in Daphne's twisted and violent game of make believe. The three of them quickly descend into a deadly maze of hallucinations, role play, torture and murder.
Braid has attracted attention from Art Basel, the Huffington Post, La Stampa, Indiewire, Nitrous and Cinetic Media and has won numerous awards including IndieWire Project of the Day, an Official Selection for Art Basel in 2015, a 2016 Academy Fellowship Quarterfinalist and Top 50 for the 2016 International Screenwriters Association Fast Track Fellowship.
The film is being produced by Logan Steinhardt (founder of Wandering Bard, formerly of Killer Films) and Arielle Elwes (of Cassian Elwes' Elevated Films, formerly of The Weinstein Company), with executive producers Joe Lubin and Dino Mark.
The Braid team is seeking to raise a minimum of $1.4m and maximum of $2.1m worth of Ether in exchange for 30% of the future profits of the film. Token holders will have the first rights to any revenue generated by the project with 15% interest before any profits are taken by the production team. After contributors to the sale are made whole, the remaining profits of the film will be divided 70/30, with 30% of the net profits being proportionally distributed to token holders.
All non-US residents are eligible to participate in the sale beginning on 7 June. For more details regarding the sale, visit https://campaign.braidthemovie.com/