The Ethiopian government's crackdown on protesters in Oromia, the country's largest state, is prompting hundreds of people to flee to neighbouring countries to avoid persecution, arbitrary arrests and torture.
Activists have claimed that more than 400 people have been killed by government forces since November 2015, a claim backed by a Human Rights Watch report released on Thursday (16 June 2016).
Oromia has been rocked by deadly protests that erupted in November 2015 against a government draft plan − later scrapped − that aimed to expand the boundaries of the capital Addis Ababa.
Demonstrations are still occurring today, although less frequently, with people calling for self-rule, the liberation of political prisoners, the end of what they perceive as "military regime" in the region and the cessation of an alleged crackdown by security forces on "peaceful and unarmed" demonstrators, mainly students and farmers.
The government has always denied the allegations of violence and claimed that legitimate protests have been infiltrated by people who aim to destabilise the country.
"One of our concerns is that the government is not addressing the underlying grievances behind the protests and is not conducting a credible investigation into the abuses. So it is just a matter of time before the protests start again," Felix Horne, HRW's researcher for the Horn of Africa, told IBTimes UK.
He added that since November, Oromo people have been fleeing to neighbouring Djibuti, Somaliland, Sudan and Kenya.
"We would like to see that people who were arbitrarily arrested be released, and those who were charged under the anti-terrorism law should be freed and charges dropped,"continued Horne.
"And we would like to see the international community putting more pressure on Ethiopia because the human-rights situation has gotten worse and worse and the long-term stability of the country is really at stake right now."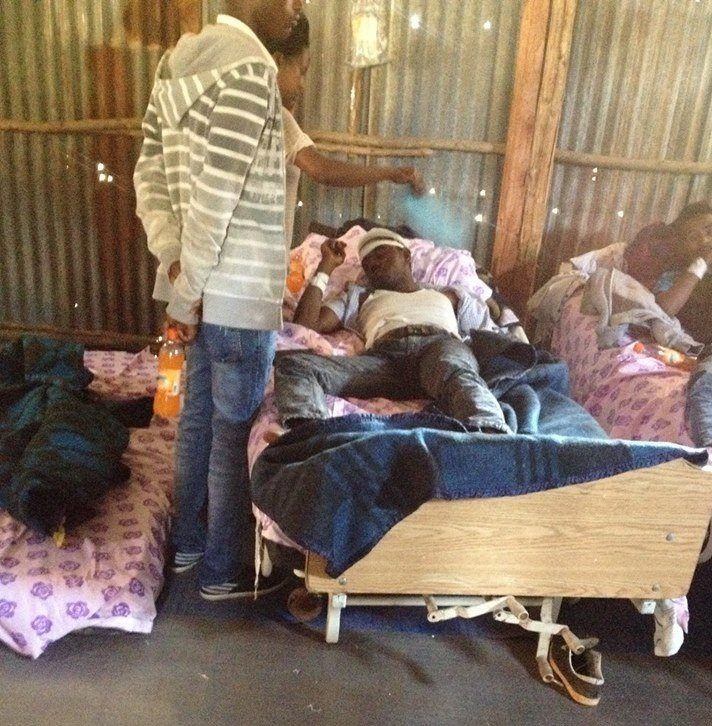 Tortured and harassed
An Oromo student and a professor who now live in Nairobi, Kenya, told IBTimes UK they left the country after being allegedly harassed by the government and kept in a military camp in Hurso, eastern Ethiopia, where they were allegedly tortured.
The student, who spoke on conditions of anonymity as he feared persecution, explained he spent one year and three months in the camp after being arrested during another round of protests in Oromia in 2014.
"They harassed me and tortured me and they hit me on both legs. I am unable to walk or stand now. After I left the camp, the government harassed me again and told my family they had to bring me to the authorities," he said.
"I left as I felt endangered. I now feel safe in Nairobi, but my family is still in Oromia. The international community must stop helping Ethiopia because it is affecting Oromos and even when we flee to neighbouring countries, it takes a long time for us to be recognised as refugees, so our suffering continues."
The university professor, who also spoke on conditions of anonymity, alleged he was detained for seven months in 2014 and harassed again when protests erupted in 2015. "They accused me of being the coordinator of the protests, but this is far from the truth. I was expelled as a result of government's pressure."
He said he was then sent to the Hurso camp where he was allegedly tortured for two weeks until he felt sick and then fled to Nairobi.
"I don't feel safe here as Ethiopian security forces kidnap Oromo refugees and take them back to Ethiopia and then they either kill them or imprison them," he alleged. "I am young, I want to live in a country where I can build my life. If I go back, my life is at risk.
Government's position
Ethiopia's Human Rights Commission conducted its own investigation into the alleged violence claiming 170 people were killed and alleging protesters were armed.
On 21 February, HRW released a report warning that at least 200 people had been killed with further arrests of Oromo protesters by security forces, including the military.
However, Ethiopia dismissed the allegations with an official telling IBTimes UK the HRW report was"abysmal propaganda." The government claimed the death toll was much lower than 200 but did not give a specific figure. Protesters were also accused of trying to secede and create an independent Oromia state.