Egypt, Sudan and Ethiopia have agreed to work together in a bid to resolve the long-running conflict over the construction of the Grand Renaissance Dam.
Following a bitter standoff between Egypt and Ethiopia over the dam's potential impact on Cairo's water supply, water affairs ministers from the three countries agreed to complete studies of the dam's potential impact within six months.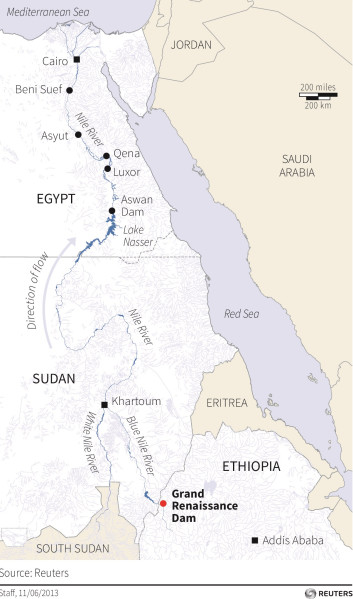 The two-day talks in Khartoum were hailed as "fruitful" and were held "in an atmosphere of trust and transparency", according to a statement from all three parties. Yet, the construction of the hydro-electric dam remains a pressing concern for Cairo.
While the language used by the ministers may have been conciliatory, Ethiopia has pressed ahead with the project, while Cairo has been weakened by a period of political chaos.
Cairo's water shortage fears
Egypt lies downstream of the proposed dam on the Nile, and has frequently stressed its opposition to the construction of any projects on the river that could diminish its water supply.
Cairo also claims historic rights to the river Nile, dating back to treaties from 1929 and 1959, which it says give it the right to veto any projects upstream.
Those treaties, agreed with Sudan and the UK, award Egypt around two-thirds of the Nile's water to Egypt. Other countries in the Nile basin contest the validity of these treaties.
Ethiopia began work on the project to divert the Blue Nile last year. That river eventually joins with the White Nile at Khartoum in Sudan, where it forms the river Nile and flows on through Sudan and Egypt.
Ethiopian officials have said the project would eventually lead to the construction of a 1,780m long and 145m high dam that could produce 6,000 megawatts of electricity.
The total cost of the project has been estimated at $4.2bn (£2,5bn, €3.2bn.)