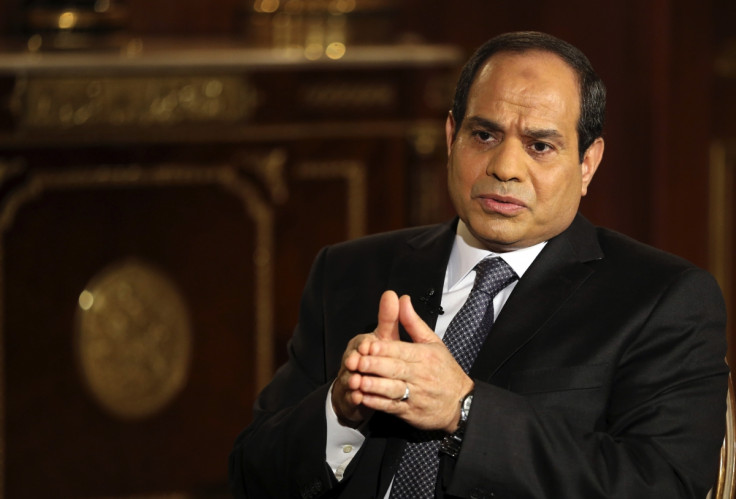 The frontrunner in Egypt's presidential elections, Abdel Fattah al-Sisi, has promised to launch a "Marshall Plan" for the country if he wins next week's poll, according to reports in Egyptian media.
In an interview with Egyptian broadcasters, the former army chief said his team are working on a programme of public projects, similar to those sponsored by the United States in Europe following the Second World War, Ahram newspaper reported.
He will focus on education and health if he wins the ballot, he said, and expects civilians to feel the impact of his changes within two years.
Egypt's interim governemnt has relied on massive injections of aid money from the United Arab Emirates, Kuwait and Saudi Arabia since it took control of the country in summer 2013 after president Mohamed Morsi was ousted.
The UAE said that it has no plans to send any further aid to Egypt and Sisi did not state from where he expects to receive the investment funds needed for an Egyptian Marshall Plan.
The presidential favourite also called for negotiations with Ethiopia over the Renaissance Dam project.
Ethiopia lies upstream from Egypt on the river Nile and is planning to build Africa's biggest dam on a tributary without external financial backing, effectively bringing Egyptian control of the Nile's waters to an end. Cairo has shown concern that the dam will reduce the flow on which it has depended for drinking water and irrigation for centuries.
Sisi gave his first interview to the Western media last week, telling Reuters that Egypt is "fighting a war against terrorism" and calling for the resumption of military aid from the United States.
"The Egyptian army is undertaking major operations in the Sinai so it is not transformed into a base for terrorism that will threaten its neighbours and make Egypt unstable. If Egypt is unstable then the entire region is unstable," he added.
Washington partially resumed military aid to Egypt in April, after Congress cleared the way for the US to deliver Apache military helicopters to Egypt.
The deal had been on hold since the ouster of Islamist president Mohamed Morsi, Egypt's first elected leader.
"We need American support to fight terrorism, we need American equipment to use to combat terrorism," he told Reuters.
Sisi, who previously served as Hosni Mubarak's head of military intelligence, stepped down as head of the armed forces in April before announcing his candidacy for the Egyptian presidency.
He led the army to overthrow Morsi last summer and said he was forced to intervene after a massive uprising against Morsi's divisive rule.
"The army could not have abandoned its people or there would have been a civil war and we don't know where that would have taken us. We understand the American position. We hope that they understand ours," he added.
Sisi also said he would invest in infrastructure in Egypt's slums, by installing electricity and sewage facilities, according to the Ahram report.
Egyptians will go to the polls on May 26 and 27.