Ethiopian Airlines Plane Hijack: Passenger Video Showing Final Moments Emerges Online
Hijacker identified as 31-year Ethiopian national Hailemedhin Abera Tegegn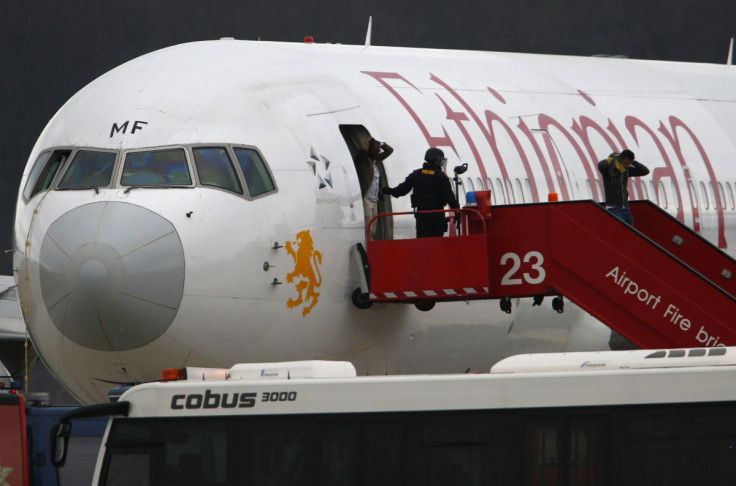 A video believed to have been shot by a passenger of the Italy-bound Ethiopian Airlines plane, which was hijacked and forced to land in Geneva, has emerged online showing the final moments inside the aircraft after the co-pilot-turned-hijacker Hailemedhin Abera Tegegn was detained by the Swiss authorities.
The images show the passengers remaining calm. As the passengers are seen with their hands behind their heads, the police are heard saying: "This is a police operation. Do not move!"
The smartphone-shot video has been carried by the Italian news outlet La Repubblica.
The Boeing 757-300 jet carrying 202 passengers, mostly Italian nationals, and crew members was diverted to Geneva after the co-pilot took control of the aircraft creating a big drama. The unarmed Ethiopian national hijacked the flight in order to seek political asylum in Switzerland, according to reports.
The hijacker has been identified by the Ethiopian authorities as 31-year-old Hailemedhin Abera Tegeg at a press conference addressed by government spokesperson Redwan Hussein.
Ethiopia has said it will talk to the Swiss authorities to get the hijacker extradited from the European country. If convicted, he could face up to 20 years in prison, the spokesperson added.
"It is still not clear what led the co-pilot to hijack the plane. There is no logical explanation that one would risk a lengthy jail term because one felt uncomfortable in his own country. People in this country are free to express their discomfort. He wouldn't also need to hijack a plane if he wants to leave the country," said Hussein.
Hailemedhin, who does not have any criminal track record, has been working with the airlines for five years, authorities revealed.
© Copyright IBTimes 2023. All rights reserved.