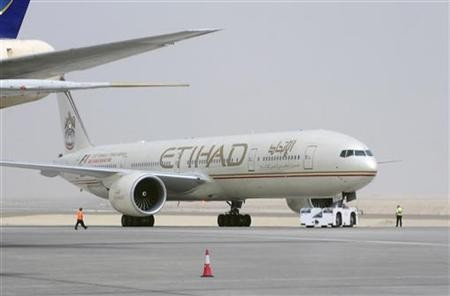 The United Arab Emirates' (UAE) Etihad Airways is set to buy a minority stake in the embattled Indian airline Kingfisher, reports the Indian newspaper Mumbai Mirror (MM).
Etihad is reported to have agreed to acquire 48 percent in Kingfisher for over Rs 30bn ($552mn/£343mn) and the deal will be officially announced on 18 December.
Sources from the two airlines cited by the newspaper have said that the deal will take place in two parts, with Etihad taking over 30 percent stake this month and another 18 percent by August 2013.
Both the companies have declined to comment on the issue. Ravi Nedungadi, CFO of UB Group which owns Kingfisher told MM: "I have no comments to offer on any speculation."
Responding to queries from the newspaper on the deal, Etihad said in an email: "Etihad Airways has identified equity investments in other airlines as an important evolution of its successful partnership strategy."
"Such investments will be made where Etihad Airways believes the commercial prospects are strong, where there are like-minded business philosophies, and where such commitment will be welcomed."
Kingfisher and Etihad had held two meetings in Abu Dhabi in October and senior officials from the latter had visited the Indian carrier's offices in the past two weeks before striking a deal in the previous week, MM reported.
Etihad already has minority stakes in Air Berlin, Virgin Australia, Aer Lingus Group and Air Seychelles. A report from Bloomberg had said that the airline may enter into one or two more deals with Asian traffic before halting equity investments.
Indian carriers are increasingly on the lookout for foreign investment to boost business after the government lifted restrictions on international deals in the sector. Jet Airways was also reported to be in talks with Etihad. Discount airline Spicejet was reported to be in talks with Air Asia for a deal, although this was denied by the Malaysian firm.
Kingfisher has been going through a rough patch in recent times as high fuel costs, heavy interest rates, strong competition and weak international operations hurt the company's performance. Over the past year, the airline has cut down the number of flights from the original schedule of 400 daily services.
Adding to the woes, its employees went on strike over salary disputes and banks refused to extend more funds. In October, regulators suspended the carrier's licences as it failed to come up with a satisfactory plan to revive its business.
But Etihad's entry will brighten the prospects of Kingfisher to extend its operations and receive further funding from lenders. Shares of the Indian carrier jumped 4.7 percent in early trading.