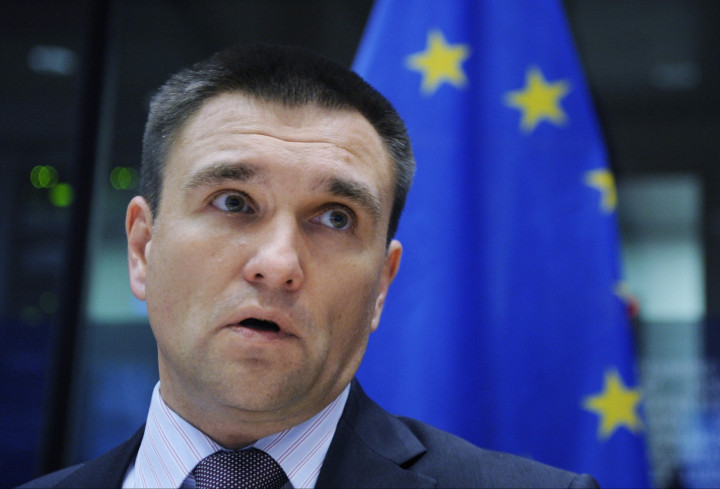 The EU has expanded its blacklist of Russian separatists, after Nato accused Russia of sending weapons and military equipment into east Ukraine.
Diplomats told AFP that separatists behind recent disputed elections in the 'People's Republics' of Donetsk and Ukraine would be added to a blacklist of individuals subject to visa bans and asset freezes.
They said that there would be a final decision on names at the end of the month.
The Ukrainian foreign affairs minister urged EU ministers to increase sanctions on Russia, but they stopped short of doing so.
There is growing concern over new military build up in eastern Ukraine.
The Organisation for Security and Co-operation in Europe and Nato have both said that increasing amounts of weapons and military equipment have entered east Ukraine, which Nato said has crossed the border from Russia.
In the past 24 hours, seven Ukrainian soldiers and three police officers have been killed, security officials said.
Russian President Vladimir Putin today denied the claims that Russia was behind the build-up, and said that "righteous" fighters would "always get weapons". Over the weekend, Putin left the G20 summit in Australia early after being criticised over Russian policy by world leaders.
After a meeting in Brussels today, EU foreign ministers declared "alarm" at reports about "convoys moving in the separatist held areas with substantial amounts of heavy weapons, tanks and troops without insignia from across the Russian border."
"The Council calls in particular for a halt to the continuous violations of the ceasefire, a withdrawal of all illegal and foreign forces, mercenaries and military equipment, as well as for securing the Ukrainian-Russian border with permanent monitoring by the OSCE."
They also pledged that those responsible for downing flight MH17 to be brought to justice.
They called on all parties in the conflict to ensure investigators are given full access to the MH17 crash site, and announced that "the Council underlines that those directly and indirectly responsible for the downing of MH17 will be held accountable and brought to justice."