EU referendum: Analysis behind George Osborne's £300bn pension warning is 'one-sided'
The Treasury's warning that £300bn ($439bn) could be wiped off the pension pots of over-65s if the UK splits from the EU is based on a "very limited" economic analysis, a top financial expert has claimed. Tom McPhail, head of retirement policy at Hargreaves Lansdown, told IBTimes UK the calculations could even be considered "one-sided".
McPhail explained: "It's important to acknowledge the very limited nature of the Treasury's underlining economic assumptions and then secondarily, flowing from those economic assumptions, the particular impact on pensions have been presented in a fairly specific way by focusing on the impact of inflation on people who don't have inflation-linked annuities."
"They're right – if inflation goes up, people without inflation linked annuities would see their standard of living fall faster.
"But what they haven't done is explore other possible outcomes, such as an increase in bond yields resulting in a reduction or complete elimination of deficits on final salary pension schemes."
He added: "It does feel as if [the Treasury's calculations are] based on a particular economic scenario and it only presents a fairly one-sided analysis of the potential consequences of that economic scenario."
The pensions expert also pointed to a recent survey of fund managers from Hargreaves Lansdown on the impact of Brexit. A majority of respondents agreed that a split from the EU would mean "somewhat lower" GDP in the short term (1-2 years), but the impact was thought to lessen over the medium and longer term, with more than a fifth suggesting GDP could be somewhat higher in 5-10 years.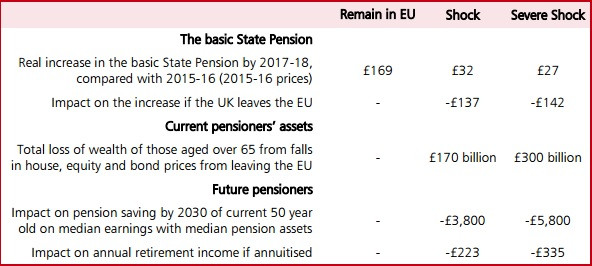 HM Treasury
Peter Hargreaves, a co-founder of Hargreaves Lansdown, has donated £3.2m to the Leave.EU, but McPhail said the firm is "entirely neutral" on the referendum.
The pensions experts' comments come after the Chancellor George Osborne claimed the average pension would see their retirement pots lose £32,000 on average because of a Brexit.
The Treasury's analysis was based on the immediate economic impact of a 'leave' vote at the 23 June ballot. The department used two scenarios in its analysis: a 'shock' to the economy and a 'severe shock'.