EU referendum: Cameron has 24 hours to clinch deal to pave the way for June vote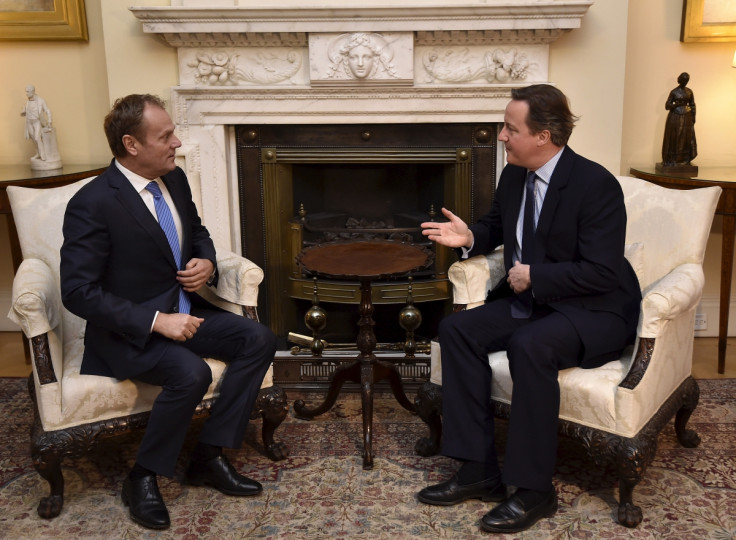 Prime Minister David Cameron has 24 hours to strike an agreement with the EU for Britain after European Council President Donald Tusk left Downing Street declaring "no deal". Shortly after he departed from Number 10, Tusk tweeted: "No deal yet. Intensive work in next 24 crucial. #UKinEU" while Cameron took to the social media platform to inform the British public that further discussion lay ahead "before publishing the draft UK renegotiation text."
If Cameron does manage to reach a deal, it could pave the way for an in-out referendum on Britain's membership of the EU to be held in June 2016. Cameron and Tusk are hoping to agree on a string of measures in time for the EU leaders' summit on 18 and 19 February.
A key part of the prime minister's demands include restrictions on EU migrants claiming benefits in the UK. A spokesman for Cameron said: "On welfare, the commission have tabled a text making clear that the UK's current circumstances meet the criteria for triggering the emergency brake," and hailed it as "a significant breakthrough".
The emergency brake could be triggered immediately after a referendum. Yet in spite of the apparent agreement on the issue, Brussels is reluctant to allow Downing Street to apply the measure for more than four years, while Cameron is insisting that he wants it to be implemented for seven years – but this has been fiercely opposed by eastern European nations.
According to the Daily Telegraph, Cameron warned Tusk that unless Brussels does more to curb the number of foreigners coming to the UK, Britain could vote to leave the 28-member bloc. He also informed the president of the European Council that further steps need to be taken to ensure the UK can veto decisions which it considers unfair to Member States who are not part of the single currency.
The coming hours will be crucial to ironing out any differences. An EU source close to the discussions told the Times: "After those 24 hours Tusk will assess the situation and decide on whether to table [a] proposal or not".
© Copyright IBTimes 2023. All rights reserved.