EU referendum: Tusk leaves Downing Street in a hurry after meeting with Cameron over migrant benefits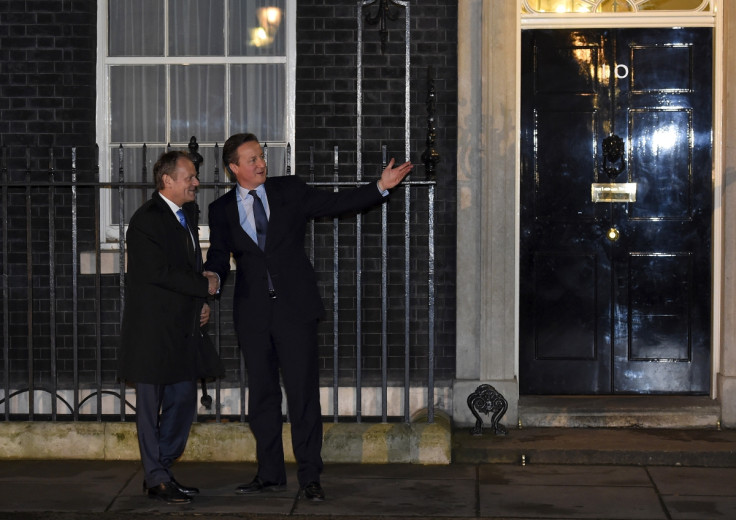 David Cameron met with European Council President Donald Tusk at Downing Street for crunch talks on limiting access to benefits for migrants, as the prime minister attempts to persuade the public - and members of his own cabinet - that Britain is better off in the EU. Cameron and Tusk were supposed to enjoy smoked salmon, fillet of beef and crumble at their working dinner, but Tusk left less than two hours into the meeting, telling waiting reporters there had been "no deal" on the thorny issue of restricting benefits for migrants.
Cameron wants a so-called "emergency brake" on migrants accessing benefits to be in operation immediately after the EU referendum takes place, which could be held in June 2016. Under the proposal, put forward by Brussels as an alternative to Cameron's demand that migrants receive no benefits at all for four years, migrants could be denied benefits if the host country demonstrates the welfare system is under excessive strain.
Cameron had wanted a deal agreed at a make-or-break summit on 18-19 February to allow a referendum to take place soon afterwards. Tusk's hasty departure from Downing Street seemingly indicates that the two men have vastly different ideas about how to proceed, and Cameron will now have to work even harder to convince his party and eurosceptics that he will be able to hammer out a deal that suits Britain.
The prime minister sees benefit reform as one of four key negotiating points with his European partners, the others being greater power for national parliaments, protection for EU countries outisde the Euro and an opt-out for the UK of a commitment to an "ever-closer union." However even if he is successful at the summit, which seems increasingly unlikely, eurosceptics seem certain to dismiss the reforms as inadequate.
Following the meeting, Cameron tweeted: "A good meeting with @eucopresident [Donald Tusk], who has agreed to another 24 hours of talks before publishing the draft UK renegotiation text."
"People understand they must create 'victory' out of whatever they are handed and in this case we think there has been a long series of humiliating capitulations leading to this point," Steve Baker of Conservatives for Britain told Sky News. "It is not going to answer the concerns of the British people. We need the power in our own parliament to determine what our migration policy is."
© Copyright IBTimes 2023. All rights reserved.