Last-minute voters attempting to have their say in the EU referendum have been met by chaotic scenes at train stations and airports. Torrential rain deluged London and the South East on Wednesday night (22 June) causing widespread flooding in the area.
London Waterloo - the capital's busiest train station with 250,000 passengers movements a day - was a sea of delayed commuters as South West Trains either delayed or cancelled services. On the continent, flights were hampered by similar delays leaving passengers unable to make it to their polling stations in time before they close at 10pm.
IBTimes UK reporter Alistair Charlton booked a holiday to the French Alps specifically so he could make it back in time to vote. French air strikes meant he and his girlfriend - both Remain voters -landed eight hours later than planned, too late to make it to his polling station.
"We've just worked out we could have driven back quicker," he said. "We were re-routed on our drive to Geneva which meant we missed out flight back to London City airport and had to book another one with easyJet.
"We were on the plane when we were told we could be waiting for two hours and we waited every minute of it. The pilot was bargaining for a take-off slot and we eventually departed Geneva at 8pm."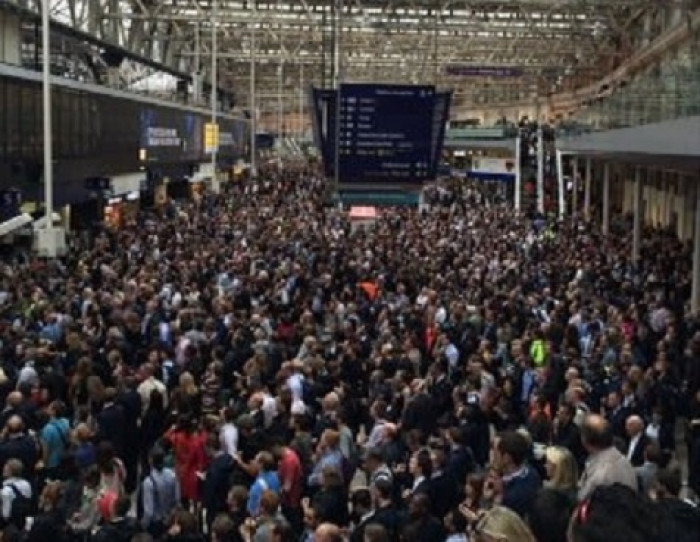 The pair eventually landed at approximately 9pm - too late to make it to their polling station in London to cast their vote.
"When we booked the flights we both thought we would be back with plenty of time, we had been thinking about it all day," Charlton added.
"There was small talk on the plane when we were delayed and people behind us said they would not be able to vote, either. The closest we got to voting Remain was when there was announcement saying we could 'remain on the plane'."