The chancellor George Osborne will warn that cuts to the NHS, schools and defence will be needed in order to fill a £30bn ($42bn; €37bn) black hole in the public's finances, should Britain vote to leave the European Union on Wednesday (15 June).
In an event, where he will be joined by his predecessor, Alistair Darling, Osborne will also spell out how there will need to be an increase in duties on alcohol and petrol, as well as a rise in income taxes.
"Far from freeing up money to spend on public services as the leave campaign would like you to believe, quitting the EU would mean less money. Billions less. It's a lose-lose situation for British families and we shouldn't risk it," he will say.
The pair will outline other measures needed, including adding 2p to the basic rate of income tax to 22% - a 3p rise in the higher rate to 43% - and a rise in inheritance tax to 45p, in figures which they say take into account any supposed "windfall" from reduced EU budget contributions.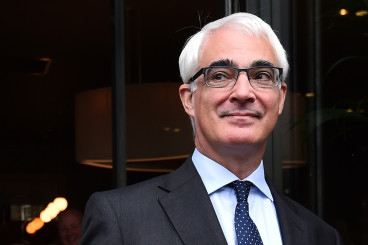 Spending with the Home Office and policing, transport and local government, could take a five per cent cut, which would save £5.8 bn.
Writing in The Times on Wednesday (15 June), the pair claim that Brexit would mean an emergency Budget to increase taxes and cut spending and a vote to leave "would lead "to a profound economic shock that would hit the economy and could tip Britain back into recession. "
Darling will say: "We know we'll have not just a short period of uncertainty - but years and years of it. Far from having more to spend on public services - the giant con trick at the heart of the Leave campaign - we'd have tens of billions of pounds less.
But Conservative campaigner, Steve Baker, criticised the warning by the chancellor, which was "threatening to break so many key manifestos on which all Conservative MPs were elected".
The Leave campaign said it would try to halt the measures outlined by Osborne, and that if there was an out vote, parliament would bring in legislation to cut VAT on fuel, boost NHS funding and bring in a points-based system for immigration.
Downing Street is reportedly considering making a pledge to curb EU freedom of movement amid fears the country is heading for Brexit because of their failure to deal with the issue. Some £30bn was wiped off the FTSE 100 in a sign that the markets are increasingly predicting a Brexit vote.