Lord Bamford, the chairman of heavy equipment manufacturer JCB, has become the latest businessman to throw his weight behind the pro-Brexit campaign in the lead-up to the European Union referendum.
In a letter addressed to his company's 6,500 employees, Bamford insisted he was "very confident that we [Britain] can stand on our own two feet" if vote 'Leave' has its way at the referendum on 23 June.
"I voted to stay in the Common Market in 1975," he wrote.
"I did not vote for a political union, I did not expect us to hand over sovereignty to the EU.
"I certainly did not expect unaccountable leaders in Brussels to govern over us.
"So do I wish to remain in an EU of diminishing economic importance as it moves towards ever closer union? Or do I want us to pull out of the EU, reclaim our sovereignty and regain control of how we trade with Europe and the world?"
Bamford, however, said that while he was urging his employees to vote 'Leave', the decision remained completely up to them.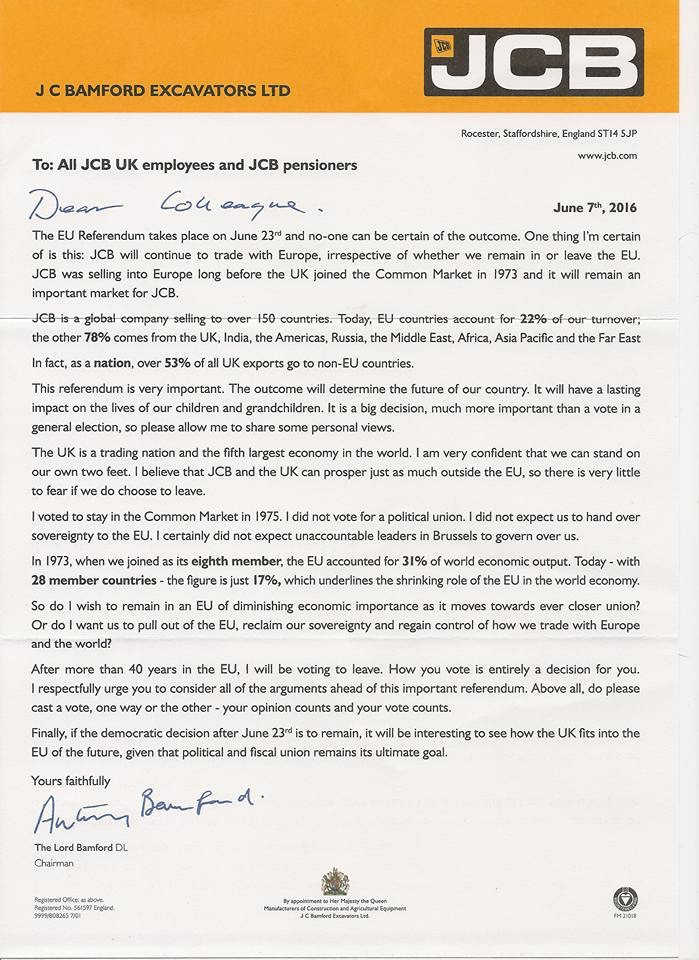 On Wednesday (8 June), US bank Citigroup warned that it might move operations out of its London HQ and Belfast in the event of a Brexit. The bank, which employs 9,000 people across the UK, said a 'Leave' vote would have serious repercussions on its operations in Britain.
"Ahead of the referendum, we have been carefully reviewing the situation and contingency planning around a number of areas, including our organisational footprint and where we book business," said Citi's UK boss, James Bardrick.
The announcement came only a couple of days after sector peer JP Morgan warned that a Brexit could result in it slashing up to 4,000 jobs in its UK business.