EU referendum: Tory MP accuses Cameron of 'Robert Mugabe antics' over £9m pro-EU leaflet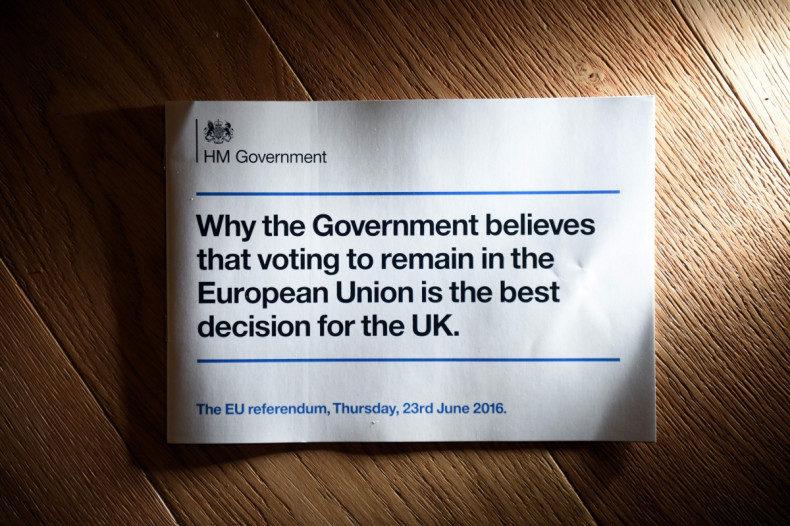 Tory infighting over the EU referendum intensified after Ribble Valley MP Nigel Evans accused the prime minister of "spiv Robert Mugabe antics." The outburst came after the government spent £9.3m ($13.2m) on a pro-EU mailshot which is being delivered to every home nationwide.
Conservative MPs said the 16-page leaflet would "damage the government's reputation for straight-dealing on this issue" and branded the decision to send out the material as "an abuse of public money." As MPs convened in parliament for the first time since the government announced that it would be sending out the brochures to 27m homes, the sharpest rebuke of the pro-EU move came from Evans.
"As a member of the Council of Europe, part of my responsibility is election observing and I go round and I have a look at the conduct of the campaign prior to polling day," said Evans. "If I witnessed in any of the countries that I go to the sort of spiv Robert Mugabe antics that I've seen by this government then I would condemn the conduct of that election as being not fair."
Amid cries of "shame" by Tory backbenchers, Europe Minister David Lidington rejected Evans' assertion and said the government is duty-bound to give the electorate the "facts" ahead of the 23 June vote. He also said that the Ribble Valley MP's portrayal of Cameron in the same light as Mugabe was "not his finest moment" given that campaigns in Zimbabwe involved "the murder, maiming and intimidation of voters".
Lidington added: "I am spending time virtually every day now signing replies to Members of Parliament who have enclosed letters from constituents where those constituents have said they feel they do not yet have enough information on which to take an informed decision and they would like to have some more please." The cost of the leaflet works out to 34p per household and is a "reasonable expression" of the government's stance to stay in the EU, according to Lidington.
David Cameron previously insisted that he would make "no apology" for the measure and said there is "nothing to stop the government from setting out its views in advance of the campaign". In a letter to the prime minister, Liam Fox said: "The current proposal effectively doubles the budget for the Remain campaign and will offend the natural spirit of fair play that is so much a part of the character of the British people.
"If the government intends to go ahead with this publication, then I suggest you consider correcting the imbalance by allowing the opposite side to include the alternative view," the former defence secretary added.