Euro 2016: Iceland FA attacks Danish neo-Nazi group over racist Facebook post about French team
KSI condemns Danes' Party for suggesting France should play in Africa Cup of Nations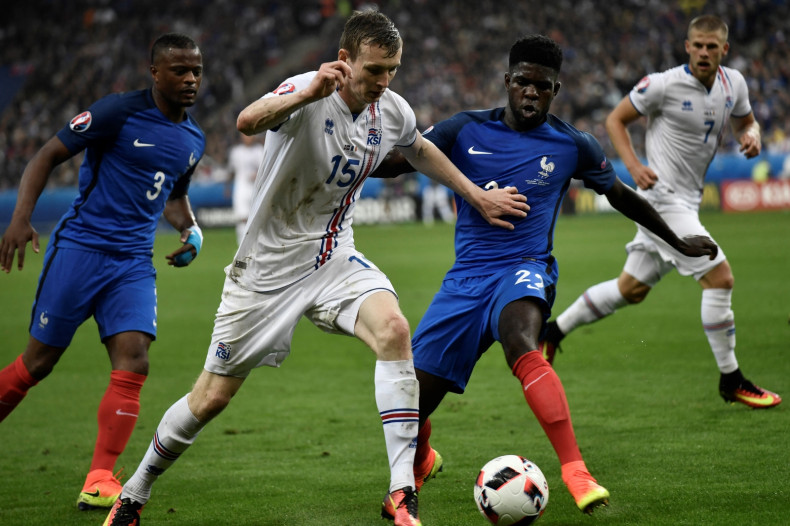 The Football Association of Iceland (KSI) has issued a statement attacking a far-right party in Denmark, after they suggested France should not have taken part in Euro 2016 due to the number of black players they have in their team.
Following Iceland's triumphant participation in the tournament, in which they beat England 2-1 before eventually losing to France in the quarter-finals, the KSI attacked the nationalist Danes' Party for posting an image to Facebook asking people to share if they think that France should play in the Africa Cup of Nations.
The image featured a number of French players, including Paul Pogba and Moussa Sissoko, alongside Iceland's captain Aron Einar Gunnarsson.
The image, which has a black border around the French stars and a white border around Gunnarsson, reads: "If you don't think that Europe and Denmark should be transformed into an African backyard, then enter your email address at www.stemdansk.dk so the Danes' Party can be allowed to run for parliament."
The KSI issued a strongly worded statement against the image and urged people not to share it as "football is a unifying force". It added: "The common interest of a large chunk of the human race in the sport of football which we so love brings people together. We use sport to bring people together, not split them apart.
"Among the joy and pride brought by the wonderful achievements of the Icelandic national team at Euro 2016, it is horrible to see abuses of the type perpetrated by the Party of the Danes."
"Forces of division have no place in the football movement, and football authorities in Europe have fought hard against racism in the sport. This battle is far from over and KSI is committed to taking part in combating racism with all its might.
"Iceland gained the respect of the world during the Euro 2016 finals thanks to their positive conduct and KSI completely dissociates itself from hate propaganda of this kind."
The Danes Party was founded by a former neo-Nazi who wants to see all non-Western immigrants kicked out of Denmark. It received less than 1% of votes in the 2013 municipal elections in Denmark, reported Iceland Monitor.