Although there had previously been a fear that their son might be caught up in a terror attack during his twelve-night stay in Paris, after seeing the scenes of hooligan violence in Marseille, my parent's fears regarding their son's safety in France became defined by the possibility of entanglement with gangs keen on bringing the tournament into disrepute. The reassurance that I was in the north while Marseille was in the south-east quelled this fear, to an extent, while I said my goodbyes at the front door.
Much like Ireland's potential route into the knock-out stage of the European Championship, my trip to Paris was hazardous and not without significant obstacles. It would be a triumphant tale of the underdog. Following a bus from Derry to Dublin airport, our first flight took us 355 miles past the French capital, and to Frankfurt. We, and dozens of other Irish fans who had chosen cost over convenience, were then task with catching a connecting flight that, thanks to delays, left 25 minutes after we touched down in Germany.
Security checks temporarily halted our process but, with two minutes to spare, we reached our departure gate and were met by a rapturous round of applause from the rest of the Irish contingent. We had achieved what we thought was impossible, though not without expending large amount of sweat.
After arriving at Charles du Galle, the final leg of our journey to Paris was a train ride into the city centre. Fourteen hours of busses, aeroplanes, trains, shuttles, metros and a frantic dash across the third-largest airport in Europe had been successfully completed, and it was now time for a much deserved sleep before Monday's game at the Stade de France. The "Boys In Green" were set to play Sweden at the Stade de France and we, unbelievably, would be there in the stands to watch.
Despite the belief that qualifying had been the real success, and that the tournament itself was simply a lap of honour for the team, a chance for Ireland's players to be thanked for giving 40,000 Irishmen an excuse to take two weeks off work and drink beer in France; the Sweden game was considered a must-win. Due to the perceived difficulty of the two games that lay ahead against Belgium and Italy in Bordeaux and Lille, a win was considered essential if Irish fans were to have any chance of booking another week off work.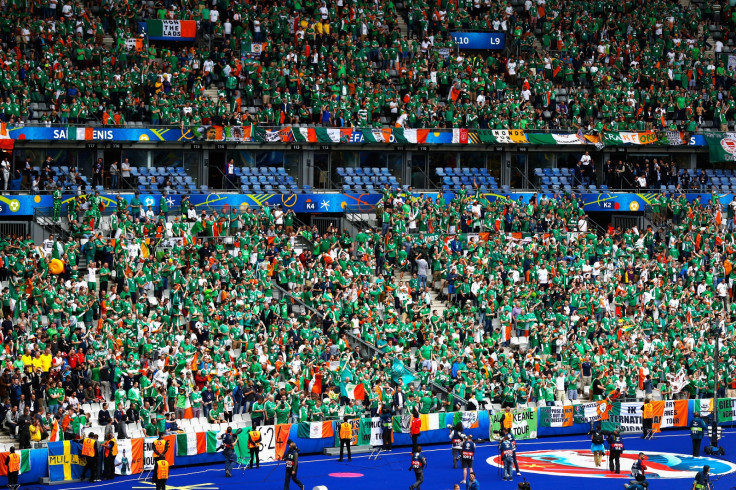 The team performed magnificently and deservedly took the lead through the mercurial Wes Hoolahan at the start of the second half. However, a misjudged defensive header from Ciaran Clark proved costly for Martin O'Neill's men, as the game finished 1-1. Although Irish fans left the stadium with the feeling that their team had dropped two points as opposed to earning one, this disappointment did not affect the night that lay ahead.
While violent disruptions caused by fans in Marseille marred the weekend's Euro 2016 action, in Paris the Irish fans lived up to their tag as the best travelling fans in the world. Thousands of Irish fans descended upon the Place de Clichy after the game, without a single plastic chair thrown. We talked and sang football songs with the locals; sang Abba's Thank you for the Music with Swedish fans; and boosted the French economy by buying copious amounts of alcohol.
Intermittently you would hear someone in the crowd say: "Imagine what it would have been like it we had won!" I would expect that the atmosphere would have been the same had Ireland prevailed. Fans want their team to win and be successful, of course they do, but there is a realisation among the travelling Irish contingent that qualification was a success in itself. We are here to, firstly, enjoy ourselves and appreciate the fact that our national team made it to another major competition. So win, lose, or draw, will be in the streets of Paris, Bordeaux and Lille singing "come on you Boys In Green!".