The far-right leader of the Russian football supporters' association, Alexander Shprygin, has reportedly been thrown out of France after several violent incidents between England and Russia fans at Euro 2016, according to reports released on Thursday (16 June). The violence in Marseille marred the nations' first match in Euro 2016 with Shprygin among 43 fans detained on Tuesday (14 June) in southern France.
He is now one of 20 Russian fans facing deportation after he was stopped whilst travelling from Marseille to Lille to watch Russia's second match versus Slovakia. Three other Russian fans were also jailed for between 12, 18 and 24 months and barred from returning to France for two years.
"The delegation of the Union of Russian Fans, whose bus was stopped on 14 June on the way from Marseille to Lille, spent more than a day under arrest. Twenty people were later released and 20 others, including URF head Alexander Shprygin, were taken to a deportation centre from where they will be expelled from France within five days," the Union of Russian Fans said on its website on Thursday.
"France's authorities said they have taken this decision due to security considerations as they see a potential threat in these people. No other reasons have been provided."
The arrests have angered Moscow, which has summoned the French ambassador to the Kremlin to protest against the arrest. A Russian foreign ministry statement encouraged avoiding "further stoking of anti-Russian sentiments".
Shprygin, who created the All-Russia Supporters Union, is reported to hold far-right views. Despite Kremlin-backing, his fan group is considered by the Fare network - an organisation that provides official observers at matches for Uefa and Fifa - as leading Russia's network of extreme-right wing ultra-fan groups.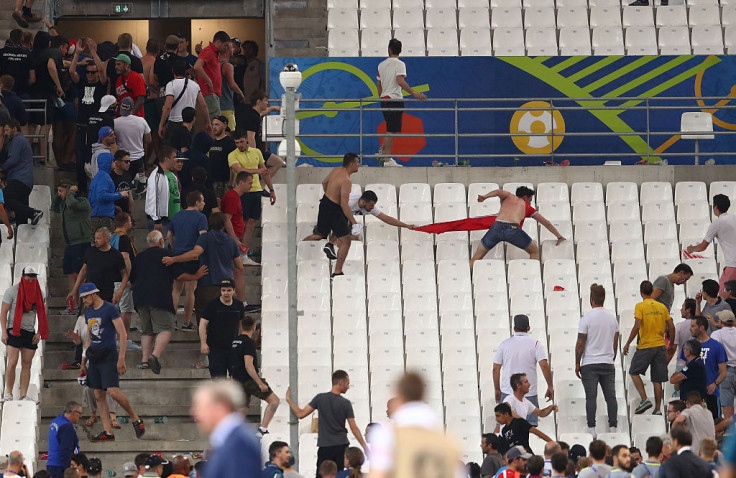 According to the Guardian, Piara Powar, the network's executive director, said that the presence of Shprygin within the official fan party raised concerns about "the apparent nexus of high-level politicians, far-right leaders and extreme nationalism" in Russian football, ahead of the 2018 World to be held in Russia.
Shprygin has been photographed with Russian President ,Vladimir Putin, and in another picture, performing a Nazi salute with a singer from a notorious Russian far-right rock band, Korrozia Metalla. He also said that he wanted to "see only Slavic faces in the Russian national team".