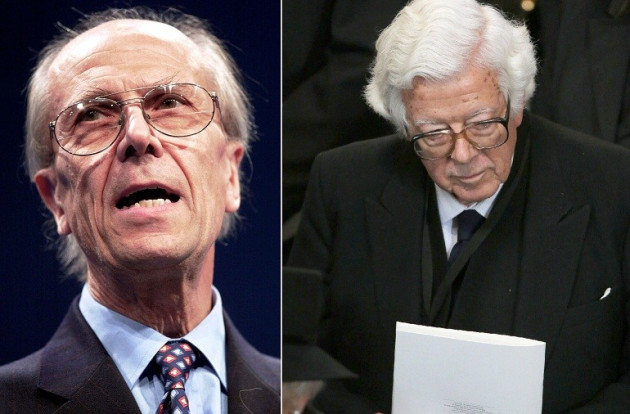 Tory turmoil over Europe deepened as embarrassing row between two of its most senior members erupted as the party began haemorrhaging support to Ukip.
Margaret Thatcher's former minister and loyalist Norman Tebbit attacked his former colleague Lord Howe, who was her Chancellor of the Exchequer and foreign secretary, for "bleating" in favour of Brussels against Britain.
Writing in the Telegraph Tebbit launched a stinging riposte to Howe's claim in the Observer, that the Europe issue has got prime minister David Cameron "running scared."
Tebbit's broadside came after Howe branded "a new farcical low" the PM's handling of calls for an In-out referendum on EU membership from his own backbenches.
Claiming Cameron is at the mercy of his Eurosceptic Tory MPs demanding a poll before 2015, Howe said: "The ratchet-effect of Euroscepticism has now gone so far that the Conservative leadership is in effect running scared of its own backbenchers, let alone Ukip, having allowed deep anti-Europeanism to infect the very soul of the party."
In response, arch-Eurosceptic Tebbit declared Howe is loyal first to so-called 'Eurocrats' in Brussels, not to Britain.
He said: "One thing is constant in all this. That is the remarkable loyalty of Lord Howe, uphill and down, through thick and thin, to neither his party nor leaders - but to Brussels.
"There is, however, not a moment's doubt in his mind that both the members of the Conservative Party and its leadership exist to serve the interest of the Euro-Republicans who run the EU."
Tebbit's words upped the rhetoric, while underlining how very toxic Europe is for the Conservatives.
The vicious scrap between two of the Conservatives' most distinguished veterans came against the backdrop of a surge in support for the Ukip, the anti-Europe right-wing party.
New polling by Opinium for the Observer put Nighel Farage's Europhobic Ukip on 20%. A similar poll by Comres had Ukip on 19%
It comes as business leaders issued a warning that Britain should not walk out of the EU.
Exiting Europe would cost the UK up to £92bn, according to a letter signed by Virgin air tycoon Sir Richard Branson and advertising guru Martin Sorrell.
They accused Eurosceptic MPs like Nadine Dorries of putting "politics before economics."
"What we should now be doing is fighting hard to deliver a more competitive Europe, to combat the criticism of those that champion our departure," it read.
"The benefits of membership overwhelmingly outweigh the costs, and to suggest otherwise is putting politics before economics."