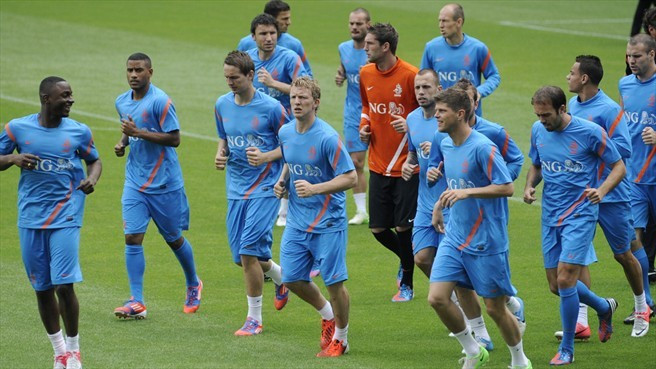 The Dutch, who suffered a shock 0-1 defeat to Denmark in the two sides' opening game at the 2012 European Championships, will go into a crucial game against long-time rivals Germany knowing that a defeat could see them book tickets home even before the group stages are over.
There is another problem now, though. There are reports about player revolts and rebellions within the camp, ahead of the game with Germany. The national press and fans are demanding the resignation of coach Bert van Marwijk. The Dutch boss is also facing questions from within the squad regarding the role of team captain Mark van Bommel, who happens to be his son-in-law.
Tottenham midfielder Rafael van der Vaart, meanwhile, has been vocal about his frustrations at only being a substitute, while Bundesliga top scorer Klaas-Jan Huntelaar is understood to be furious at being Robin van Persie's back-up.
A former national team captain, van der Vaart was a late substitute in the loss to Denmark and has since urged his coach to pick him against Germany or face elimination.
"I have the right to speak out with 97 caps behind my name. If Holland want to win, the coach has to play me in the starting line-up. I am no longer prepared to deny I am finding this role really tough. Do you know how frustrated I feel? I am in the best form of my life and I train so hard but I get the impression the team selection is not going to change in my favour," The Sun quoted the former Real Madrid player as saying.
"I don't want to cause a mess that would have a big effect on the others but it does not look like my position is going to change. Hardly any changes have been made to this team since the 2010 World Cup and that is great when you are in the starting line-up but it's crap when you're on the bench. I feel like a young dog that is dying to get out but is caged in," van der Vaart stressed.
Van Marwijk has preferred Inter Milan playmaker Wesley Sneijder in van der Vaart's favourite attacking midfield position since the 2010 World Cup, while the likes of Ibrahim Afellay, van Bommel and Nigel de Jong now start in the other positions the Spurs player can occupy.
Meanwhile, Sneijder has called for the squad to put their egos to one side and unite as a team.
"It is time we let these pathetic egos go. If somebody is creating a mess, I will stand up against them now. We don't need a psychologist with the Dutch team, we are grown-up men," ESPN quoted the 28 year old as saying.
"The ones who have a problem with other players or the manager should tell them face-to-face. That is the only psychology we need. We have to stop living on little islands. We must all go for the same goal, be united or face the consequences," Sneijder pointed out.
Holland will be eliminated from the tournament if they are beaten by archrivals Germany in Kharkiv on Wednesday.