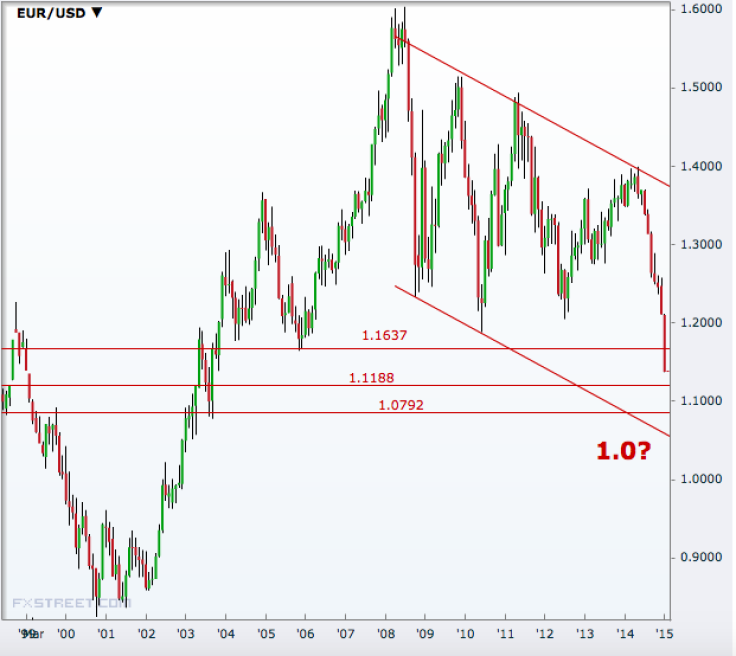 The 1.8% fall on Thursday on the 1.1 trillion boost by the European Central Bank has taken the euro to a new 11-year low versus the dollar but the EUR/USD pair has still got downside room left, strengthening bets of parity in the coming months.
On Thursday, the single currency weakened further and at 5:20 GMT, it was down 0.4% down on the day at 1.1313.
The pair has shed nearly 740 pips in January, meaning a more than 6% drop against the dollar so far in the month, much of which had been in anticipation of the ECB easing on Thursday.
Charts suggest the next support at 1.1188 ahead of 1.0792. A break of that is still required to hit the channel support and that will increase the likelihood of the euro trading on par with the greenback.
The big downside break on Thursday has turned 1.1637 a support ahead of a stronger one at 1.1875. The 1.20 mark has become a major medium-term resistance for the pair, which was a tough support just a month ago.
The EUR/GBP too fell to a multi-year low on Thursday after the ECB news. The cross traded as low as 0.7564, down 1.2% on the day, and at the lowest since February 2008.
So far in January, the euro has dropped 2.5% against sterling, meaning much of the slide was on the day of ECB stimulus.
The fall in January has pushed the cross through a medium-term support barrier of 0.7755 which has now become the first resistance point. The support now is 0.7256, near the cross.