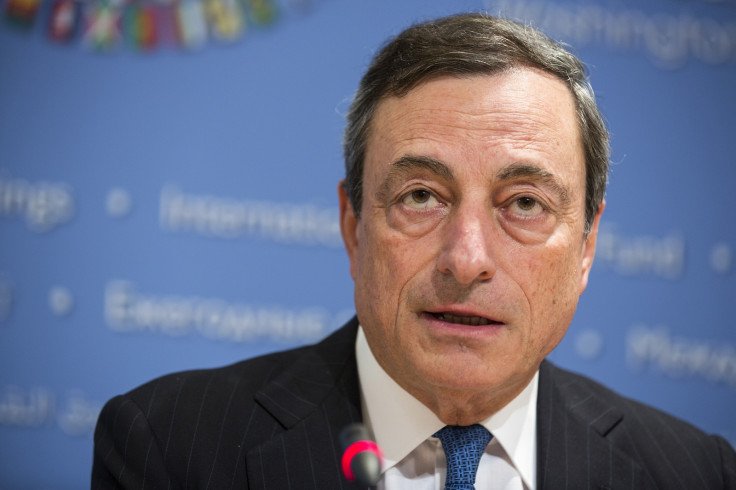 The euro currency fell to an 11-year low on Thursday 22 January after the European Central Bank announced it would inject at least €1.1tn into the eurozone economy.
The euro slid 1.6% to $1.14 against the dollar on Thursday evening in London.
The ECB said it would buy bonds worth €60bn (£45bn, $68bn) each month until September 2016 at least, in a move known as quantitative easing, beginning in March this year.
Eurozone interest rates would remain at a record low of 0.05%, the central bank said.
Data published earlier in January revealed the eurozone had fallen into deflation, meaning average prices were actually falling.
Analysts and policymakers predicted the trend could hamper efforts to boost consumption and economic growth in the bloc, as consumers put off large purchases in the anticipation that prices would fall.
ECB President Mario Draghi said the quantitative easing programme would continue "until we see a sustained adjustment in the path of inflation". The bank has targeted inflation of around 2%.
The programme is designed to reduce interest rates and to boost liquidity in the economy, encouraging financial institutions to lend more to businesses and individuals. A similar initiative appears to have been successful in the United States, where the economic recovery has gathered pace in recent months.
The ECB announcement sparked volatility on foreign exchange markets and the Russian ruble and the Brazilian real rallied.
Russia's troubled currency rose 1.3% against the dollar, while the real added 1.4% per dollar after Draghi announced the news.
Crucially, Draghi confirmed only 20% of the new asset purchases would see national central banks shouldering risks outside of their jurisdictions, meaning Germany would not be overburdened with disproportionate financial risk.