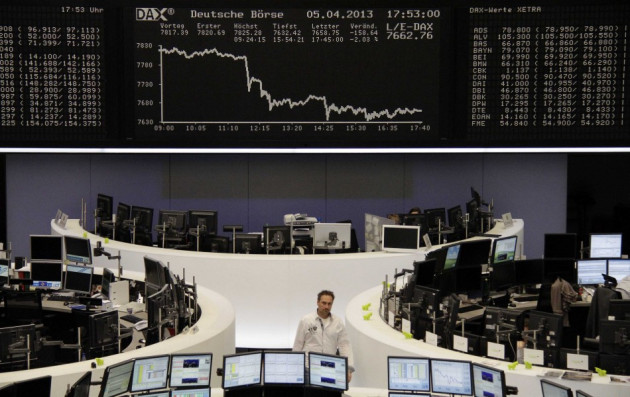 European stocks gained in the opening minutes of trade as investors remain optimistic on further stimulus hopes ahead of major meetings across the region.
The pan-European FTSEurofirst 300 index gained 0.3 percent to 1,165.6. The UK's FTSE 100 and France's CAC-40 were up 0.03 percent each while Spain's IBEX and Germany's DAX added 0.2 percent each.
Italy's FTSE MIB was up 0.5 percent. In Portugal, the PSI 20 declined 1.2 percent on after the country's Prime Minister Pedro Passos Coelho over the weekend indicated that the government will cut spending to meet targets agreed with its lenders.
Major European data set for release during the day include the German industrial output figures, which are expected to rise following a flat reading in January.
Further, certain high-profile meetings between European leaders and officials during the week are expected to help the markets.
The US Treasury Secretary Jack Lew is starting a two-day trip to Europe for economic discussions with the region's officials and leaders, and Russian President Vladimir Putin is visiting the Netherlands, a day after he met with German Chancellor Angela Merkel to discuss the Cypriot bailout.
Further, Prime Minister David Cameron will be holding meetings in Madrid as part of his push for reform in the European Union.
Earlier, Asian markets except Nikkei have ended on a mixed note. The Japanese stocks rose on the back of a weak yen which continued its southward momentum following Bank of Japan's aggressive monetary easing.
The Nikkei ended 2.8 percent higher to close at 13192.6, after crossing the 13,000 mark on Friday for the first time since August 2008.
South Korea's KOSPI was down 0.4 percent to 1918.7. Australia's S&P/ASX 200 was up 0.3 percent to 4905.5. .
Hong Kong's Hang Seng rose 0.1 percent to 21744.5 towards close. In China, the Shanghai Composite index lost 0.8 percent at 2208.4.
On 4 April, the BoJ under the newly-elected Governor Haruhiko Kuroda announced that it will increase its monthly bond purchases to 7.5tn yen ($76bn, £53tn), above the 5.2tn yen forecast by economists.
The weaker-than-expected US non-farm payrolls data added to the worries about the US economic recovery. The US Labour Department earlier said that the economy created just 88,000 new jobs in March, less than half the 200,000 expected by analysts.
While the Australian market was helped by improved optimism in the mining resource sector, the ongoing concerns about the spread of bird-flu virus and the property cooling measures impacted market sentiment in China.