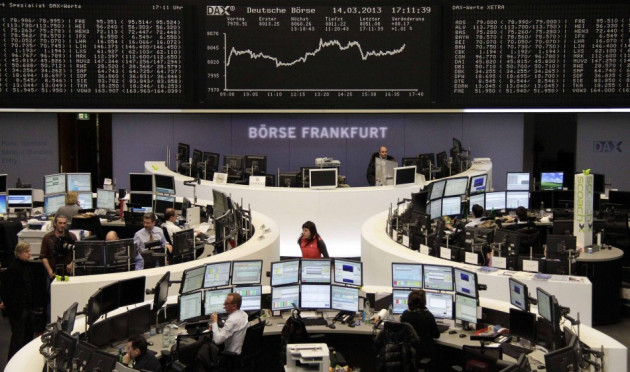 European markets gained in the opening minutes of trade, following gains on Wall Street and in Asia, along with an upbeat sentiment for the earnings season.
The pan-European FTSEurofirst 300 index gained 0.5 percent to 1,158.6 points in early trade. The UK's FTSE 100 rose 0.5 percent and France's CAC-40 was up 0.6 percent.
Spain's IBEX rose 1 percent, while Italy's main FTSE MIB surged 1.4 percent after the re-election of President Giorgio Napolitano. Germany's DAX advanced 0.8 percent.
However, investors remain concerned as data revealed that household spending in the UK declined in April due to uncertain economic outlook and higher living costs. The weak data comes after credit rating agency Fitch stripped the UK off its prized AAA credit rating.
Britain is scheduled to release its first-quarter gross domestic product data on Thursday. The country is expected to marginally escape triple-dip recession, according to various analysts' polls.
Among other European markets, Spain is looking to balance growth, austerity and deficit reduction, according to its budget plans announced last week. The country is in talks with European officials over a relaxation of its deficit targets for 2013.
In Italy, Giorgio Napolitano was elected for a second term as the country's president over the weekend. He is expected to end the political impasse over the election of a prime minister in the country.
Investors are also keenly watching the earnings reports. Of the companies which have declared their quarterly results in the US thus far, 72 percent have met or beaten expectations, while 28 percent have missed, according to Thomson Reuters StarMine.
In Europe, out of the major companies who have reported first-quarter earnings (roughly 8 per cent of the total), about 57 percent have met or exceeded analysts' estimates. French tyre-maker Michelin, luxury goods maker Hermes and the UK-based consumer goods firm Reckitt Benckiser are among major companies that are reporting first-quarter sales on Monday.
Major economic reports due for release today include existing home sales in the US and preliminary estimates of euro area consumer confidence. Bank of England deputy governor Paul Tucker's comments later this evening will also be closely watched.
Earlier, Asian markets with the exception of quake-hit China have gained on further weakening of the yen after the G20 meeting approved the Bank of Japan's aggressive monetary easing measures.
The Nikkei had closed at 13,568.4, up 1.9 percent, after trading as high as 13,611.6, its highest since June 2008. Australia's S&P/ASX 200 rose 0.7 percent at 4,966.6 and South Korea's KOSPI closed at 1,926, up 1 percent.
Hong Kong's Hang Seng declined 0.2 percent to 21,977.2 towards close. In China, the Shanghai Composite index fell 0.4 percent to 2,243.9.
The yen neared the symbolic 100 yen/dollar mark, after the G20 meetings in Washington gave a nod to the BoJ's anti-deflationary measures. The dollar, which rose to 99.89 previously, is currently trading at 99.81 yen. On 11 April, the currency reached a four-year high of 99.95 yen.
Mainland China stocks declined in the first session of trade in the aftermath of a 7.0 earthquake that hit the Sichuan province of China over the weekend. At least 186 deaths were reported in the disaster, with the number of injured crossing 11,500.