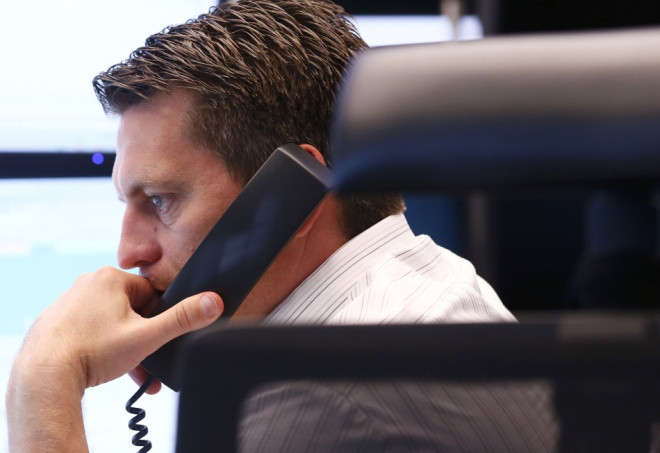 European markets were trading in red territory on 20 February following news that eurozone business activity lost some steam during the month so far, and Chinese factory activity also shrank over February.
Minutes of the US Federal Reserve's January meeting, which indicated that Fed stimulus cuts would continue, also weighed down on investor sentiment.
The Stoxx Europe 600 Index was trading 0.76% lower to 332.41 points at 10:04GMT in London, after shedding 1% to 331.56 at 8:14GMT – its biggest drop since 3 February. The benchmark index had gained 5.5% between 4 February and 19 February.
The FTSE 100 was trading 0.47% lower at 10:03GMT, pulled down by British defence contractor BAE Systems and mining stocks, which were hit by disappointing China data.
BAE's stock was trading 8.65% lower at 10:03GMT in London after the firm warned that continuing US budget pressures could reduce earnings per share by 5% to 10% this year. BAE derives 44% of its revenue from the US.
Data from Europe showed that the Eurozone private sector expanded for the eighth straight month in February, although at a slower pace when compared to January, but below expectations.
Markit's purchasing managers index (PMI) for February fell slightly to 52.7, remaining close to January's 31-month high of 52.9. The data indicated that economic activity in the euro area has been continuously expanding since July 2013.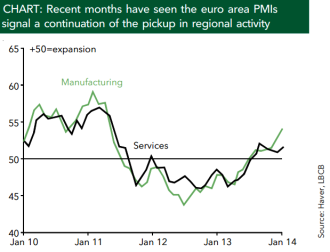 Lloyds Bank said in a note to clients: "Today sees preliminary February manufacturing and services PMI releases for France, Germany and the euro area. Recent months have seen these indices point to a continuation of the modest expansion in euro area GDP after last week's 0.3% q/q print for Q4. Our global team expect this month's readings to be broadly unchanged from January.
"Although this week's softer-than-expected print from the German ZEW survey of investor confidence does pose a downside risk to our forecast, the risk is, however, small, as the ZEW still remains close to its recent seven-year high."
Earlier in the day, a HSBC survey showed that Chinese factory activity slowed to a 7-month low in February, raising uncertainty about the outlook for the world's second-largest economy.
Danske Bank said in a note to clients: "China continues to face a slowdown in H2 13 driven by the de facto monetary tightening the People's Bank of China (PBoC) has been doing since mid-2013 although we expect the slowdown in growth to be moderate. Admittedly today's HSBC manufacturing PMI suggests increasing downside risk."
"We expect the HSBC manufacturing PMI to continue to move lower after a technical rebound in March. We expect it to bottom out close to 48 and if the decline proves more substantial we will have to lower our 7.6% GDP forecast for 2014."
Earlier, minutes of the Fed's January meeting showed that officials had pondered over whether it was time to drop the notion that a 6.5% unemployment rate would be enough to consider raising rates.
The Fed's FOMC voted at the January meeting to trim the pace of its asset buying stimulus by a further $10bn to $65bn a month.
Standard Chartered said in a note to clients: "January's FOMC minutes for the January meeting are in line with the view Chair Janet Yellen laid out in her recent congressional testimony; but they also show that FOMC hawks are becoming more assertive. The two main take-aways are: (1) the bar to pause the USD 10bn/meeting QE taper remains very high, especially as the Fed continues to dismiss recent weak data (at least up to 29 January, the meeting date) as weather-affected.
"(2) The Committee brainstormed about its threshold-based forward guidance as the unemployment rate approaches the 6.5% threshold, but with no conclusion at this stage (several members called for more qualitative guidance; i.e. more discretion and less data-dependence; something we think the Fed may ultimately evolve towards, dropping the current threshold approach)."
In Asia
India's BSE Sensex was trading 0.87% lower on 20 February
The Japanese Nikkei 225 share average finished 2.15% lower.
Hong Kong's Hang Seng ended 1.19% lower while the Shanghai Composite closed 0.18% lower
South Korea's Kospi finished 0.64% lower. However, the Australian ASX ended 0.08% higher.
Asian markets outside Australia fell on Thursday, and the yen strengthened, in the wake of downbeat China factory activity data.
The HSBC China preliminary purchasing managers' index (PMI) for February dropped to 48.3, from a final reading of 49.5 in January, indicating that the region's economic powerhouse could be facing a slowdown.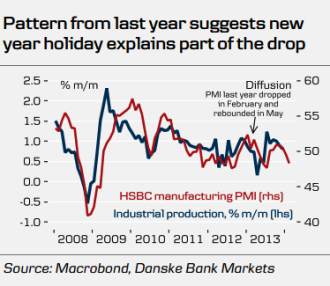 Danske Bank said in a separate note: "In our view, part of the weakness in China's February HSBC PMI was due to the timing of the Chinese New Year public holiday. As in 2013, the Chinese New Year Public holiday mainly fell in February and this has, in our view, weighed on the HSBC manufacturing PMI in February."
"Last year the HSBC manufacturing PMI declined from 52.3 in January to 50.4 in February before rebounding to 51.6 in March (see right chart). We expect a similar pattern this year with a technical rebound in March and a resumption of the downward trend in April."
In Tokyo, E-commerce group Rakuten dropped over 4% on news that it would acquire a mobile voice messaging application for $900m in cash.
Troubled utility firm Tokyo Electric Power (Tepco) fell 2.3% after it revealed that a contaminated water tank had leaked a large amount of radio-active water at the crippled Fukushima Daiichi nuclear power plant.
Exporters' stocks came under pressure as the yen firmed. Fast Retailing lost over 3% on news that it proposes to list directly in Hong Kong.
Automakers Honda Motor and Suzuki Motor shed over 2% each.
In Shanghai, energy major Sinopec surged 10% after it revealed plans to restructure its retail and wholesale businesses.
Dongfeng Auto added 2.8% following news of its tie-up with PSA Peugeot Citroen.
In Sydney, the nation's largest life insurer and third-largest retail fund manager AMP soared over 10% after it said it expected to halt profit declines in its wealth protection unit in 2015.
Construction major Leighton Holdings shot up 7% after it reported a 30% jump in full-year underlying net profit.
Wall Street Down
On Wall Street, indices finished near session lows in choppy trading on 19 February as investors took in minutes from the Fed's latest policy meeting.
The Dow finished 89.84 points, or 0.56%, lower at 16,040.56 after rallying nearly 100 points earlier in the day.
The S&P 500 ended 12.01 points, or 0.65%, lower at 1,828.75.
The tech-heavy Nasdaq closed 34.83 points, or 34.83%, lower at 4,237.95, snapping an eight-day winning streak.
The CBOE Volatility Index (VIX), broadly considered the best measure of fear in the market, shot up above 15.
Meanwhile, economic data from the US showed that housing starts dropped 16% to seasonally adjusted annual rate of 880,000 units. The rate was the lowest since September 2013.
The data followed the National Association of Home Builders' monthly sentiment index, which showed US home builder sentiment dropped 10 points, its biggest fall in the history of the survey that began in 1985.