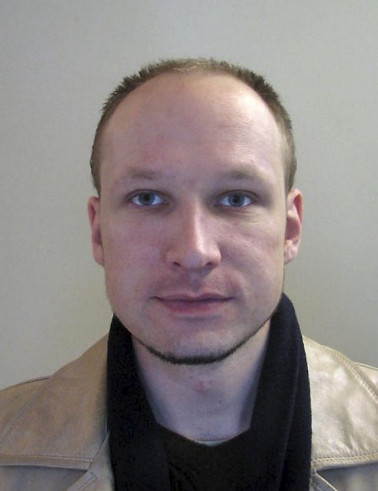 Europe is tightening its grip on right-wing violence as the man who killed 77 people in Norway in July makes his first public appearance in court.
German authorities have widened an investigation into an underground neo-Nazi cell, the same day that 32-year-old Anders Behring Breivik, right-wing extremist, arrived at a court hearing.
On Sunday German investigators arrested a man accused of being engaged in a string of murders and what a top official called a "new form of terrorism". The cell, which is called "National Socialist Underground", is believed to be responsible for at least 10 murders from 2000 to 2006 committed across the country, in which eight people of Turkish origin and a Greek man were targeted.
"There should be a distinction between politically-motivated violence and terrorism," Matthew Goodwin, from Nottingham University, an expert on the far right told the IBTimes. "German neo-Nazi extremism is not necessary new, although it can be perceived that levels of right-wing violence are greater than the past, even in the UK where thousands of arrests for terrorism have been taken place in the last few months."
After Norway's massacre, where 77 people were shot dead by hard right supporter Anders Breivik at youth camp near Oslo, the perception of right-wing violence has risen in the mind of politicians across Europe, according to Goodwin. Police examination of Breivik's contacts highlighted the Europe-wide online blog discussion of anti-immigrant and nationalist ideas.
A research by the British thinktank Demos revealed last week that the far right is growing across Europe, as a new generation of young web-based supporters embrace hard-line nationalist groups.
However, the rise of populist right-wing groups is not necessarily linked to an alleged rise in terroristic acts, according to Jamie Bartlett of Demos, the principal author of the report. "People active on Facebook's nationalistic groups are not immediately correlated to people ready to engage in militant violence," said Thomas Klau, from the European Council on Foreign Relations. "Breivik's attack was particularly disturbing because of the huge number of victims, but if you look at right-wing attacks in Germany after the reunification, you see that there was a time when extremistic violence was much more present."
Goodwin points out that while for Al Qaeda we have tons of data regarding its activities, for right-wing terrorism "data are not enough". "It's because we arguably prioritised one form of terrorism to the others," he said.
Immigration and cultural diversity are the key motivations among right-wing activists, according to Goodwin. "They foresee a forthcoming clash of civilisation, a race war," he explains. "Breivik, for instance, was worried for the growing Muslim community in Norway. This German neo-Nazi group attempted to create a symbolic act of violence to spark a debate in German politics. This is what is called 'direct action'.
German Interior Ministry counted about 5,600 people in neo- Nazi groups last year, an increase from about 5,000 in 2009. On September 21, the government banned the country's largest active neo-Nazi group, an organization that sought to spread its message through support to imprisoned extremists.
Last week, the Finnish cell of the Anonymous hacktivist collective had issued a statement claiming responsibility for "exposing" a parliamentary aid's affiliation to an active neo-Nazi group.
The attack and subsequent data release reported by Anonymous Finland was released on the PasteBin web site Monday. The attack on the neo-Nazi Kansallinen Vastarinta website followed the collectives' previous pattern, breaking into the site and posting the names and details of several of the group members.