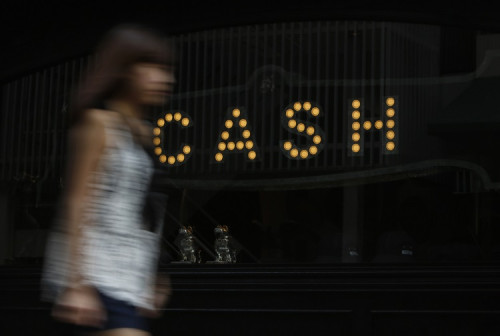 Fears that the eurozone may be sinking into a prolonged period of deflation have been reinforced by the latest flash estimates from Eurostat, the statistical office of the European Union.
Annual inflation is expected to be 0.8% in December 2013 down from 0.9% in November, according to Eurostat.
This data could raise alarm bells the among officials at European Central Bank (ECB) and politicians in peripheral eurozone nations that are struggling to tackle high levels of debt and unemployment combined with weak demand.
The harmonised index of consumer prices (HICP) - the measure of inflation used by the ECB to measure inflation - showed it had slowed to 1.2% during December in Germany.
This could suggest that even the eurozone's strongest economy cannot escape the weight of falling demand and prices.
However, some said that this figure was partially due to a change in the way HCIP is calculated by the ECB.
The fortunes of Spain and Greece in particular have caused concern, with reported falling prices towards the end of last year being flagged by market watchers.
The current ECB policy of maintaining a very loose monetary policy to spur growth has led some to question whether there is anymore the ECB can actually do to spur growth in the eurozone. The interest rate is at 0.25% and cannot go much lower.
Ishaq Siddiqi, a market analyst said that the flash inflation figure could prompt the ECB to take further action to arrest deflation at its next meeting.
"Deflation fears are back on board after eurozone harmonised CPI fell, now at 0.8% in December – well below the ECB's 2% target, stoking fears the euro area is heading into deflation despite the rate cut by the ECB in the final quarter of 2013.
"It was indeed the dip in inflation that prompted the ECB to cut rates further – with ECB set to meet on Thursday, Mr Draghi and Co are likely to face more pressure to act with stimulus measures to tackle deflation."