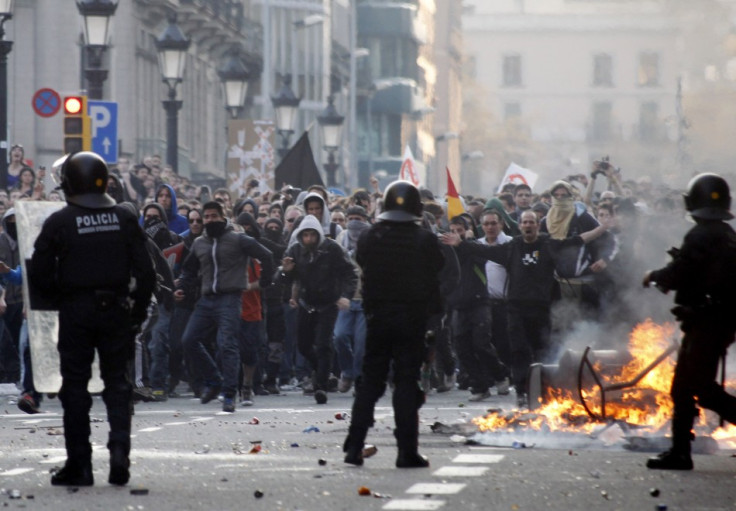 The improvement in Euroarea's economic activity in early 2012 proved to be temporary, as the re-emergence of sovereign debt crisis again strongly weighed on the region's manufacturing activity in April.
The purchasing managers' index (PMI) of the 17-nation Eurozone decreased sharply to 46 points in April from 47.7 in the previous month, recording its second consecutive decline and also the lowest level since June 2009, the Markit Economics data showed on Monday.
"Monday's European data painted a pretty dismal picture of a region slipping back into recession, with activity again being adversely affected by the re-emergence of sovereign tensions," said a note from Societe Generale Cross Asset Research.
The manufacturing activity in Germany fell for the third straight month to 46.3 in April from 48.2 in the previous, showing evidence that the Eurozone's slowdown is also impacting the largest economy in the region.
"Worryingly, the slowdown seems to be spreading to Germany, where the manufacturing PMI declined for a third consecutive month, falling to 46.3. The slowdown appears to be fairly widespread in the manufacturing sector with new orders, output and employment all declining," said the note.
Recent rise in borrowing costs for Spain renewed the debt concerns in the region, while investors also remain worried about the country meeting its budget deficit target amid deepening recession.
"Most troublingly for Europe, these numbers continue to confirm that the improvement in sentiment in Q1 has proved to be only a temporary bright spot. Renewed sovereign tensions and tighter financial conditions are again having an entirely predictable impact on foreign orders. This almost certainly means gross domestic product (GDP) for the euro area as whole will fall again in Q1 but also suggests there is little evidence of even a weak recovery taking hold in Q2. Quite the reverse in fact, with potentially even German resilience, beginning to be tested," said Societe Generale.