The United Nations says that evacuations from east Aleppo have resumed with at least 350 people in convoys leaving rebel enclaves.
The British-based Syrian Observatory for Human Rights said government forces had allowed five buses to leave Aleppo, and the first convoy to evacuate civilians and fighters from eastern Aleppo in over 48 hours has arrived safely in the Aleppo countryside.
A UN official told Reuters that the first people had left east Aleppo around 11pm local time (9pm GMT) on Sunday (18 December) and that "Evacuations are on".
Earlier in the day, the evacuation operation had been jeopardised when buses about to enter the villages of Foua and Kfarya were set alight by militants.
No group has claimed responsibility but it was initially reported that the jihadist Jabhat Fatah al-Sham rebel group, formerly the al-Qaeda-linked Nusra Front, were behind the attacks.
However, there were later claims that it stemmed from fighting between Fatah al-Sham and another Islamist rebel group who support the evacuations.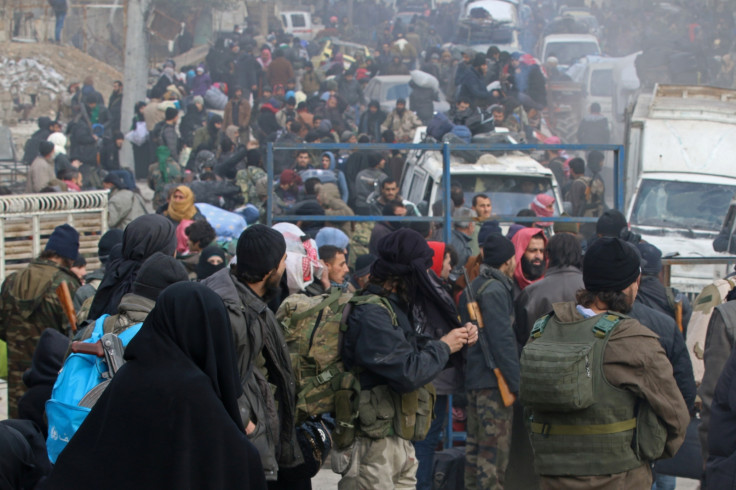 On the diplomatic front, there were three hours of talks and disagreements at the United Nations culminating in the US ambassador to the UN, Samantha Power, saying the organisation would vote on a compromise Security Council resolution on Monday (19 December) allowing the deployment of 100 UN personnel on the ground to monitor the evacuations.
"We expect to vote unanimously for this text tomorrow," she said, according to the Associated Press.
France and Russia announced an agreement on the draft resolution after the negotiations, although Russia had earlier rejected a French-drafted plan to send UN officials to east Aleppo as "a disaster".
After the new draft resolution, the Russian UN ambassador, Vitaly Churkin, told reporters: "I think we put in some good hours of work and I think we have a good text and we're going to vote tomorrow morning."
Thousands of people are still waiting to leave east Aleppo in desperate conditions. Activists say hundreds of Syrians have been trapped for hours in a no-man's-land between rebel and government control.
East Aleppo resident Rami Zien, told the Associated Press via messenger he was"stopped a no-man's land. Government forces are just ahead of me and if anything goes wrong I'll be the first to die".