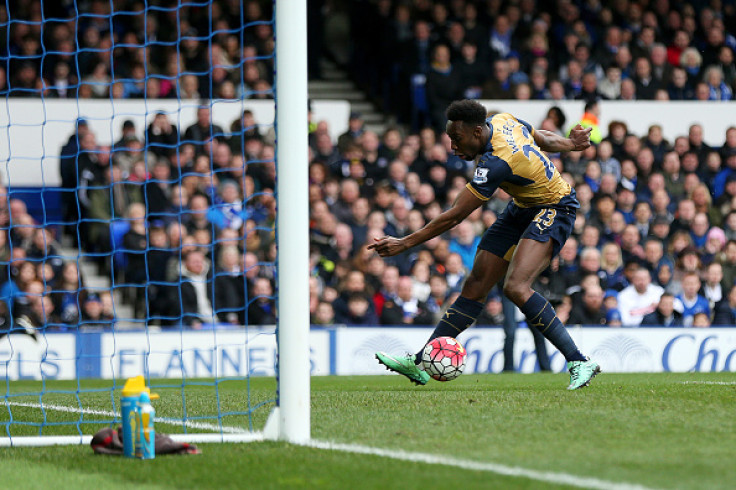 Arsenal striker Danny Welbeck has reflected on what has been a dismal few weeks for the north London club in terms of results. The Gunners had won only one game from their last seven in all competitions before picking up a much needed win at Goodison Park against a dangerous Everton side.
The run saw them crash out of all Cup competitions and make their task to end their 12-year title drought all the more difficult with Leicester city currently 11 points ahead and Tottenham playing on 20 March to extend the lead to six points. The Gunners lost to Manchester United and Swansea while drawing against Tottenham Hotspur at White Hart Lane.
However, it all came back against Everton, when Welbeck, having struck the bar against Barcelona at the Nou Camp in mid-week, latched on the end of a brilliant pass by Alexis Sanchez to give Arsenal the lead in the opening seven minutes. Alex Iwobi doubled the Gunners lead just before the half way mark, latching on a through ball by Hector Bellerin to mark his first international goal in his Premier League debut start. Welbeck believes that the win will give the Gunners some much needed confidence and help them go on a good run of form until the end of the season.
"It has been a difficult couple of weeks. The results have been bad so it is good to get back to winning ways and it is something we can build on. The most important thing for us is to worry about ourselves. That is the only thing we can do and not look too much at other team's results. We need to focus on ourselves and do what we can do," Welbeck told Arsenal's official website.
When asked about Iwobi's goal, he added, "I think it set the tone for the rest of the game. Coming in at half-time, we were confident but we knew they would come back out and try something different. I think the game plan was good and hopefully we can build on the standards we set. As you can see with the results, we have been unhappy with the situation. It is not a happy thing to be a part of. The Premier League is only thing we have got left so we will need to give it our all and try to get the points."