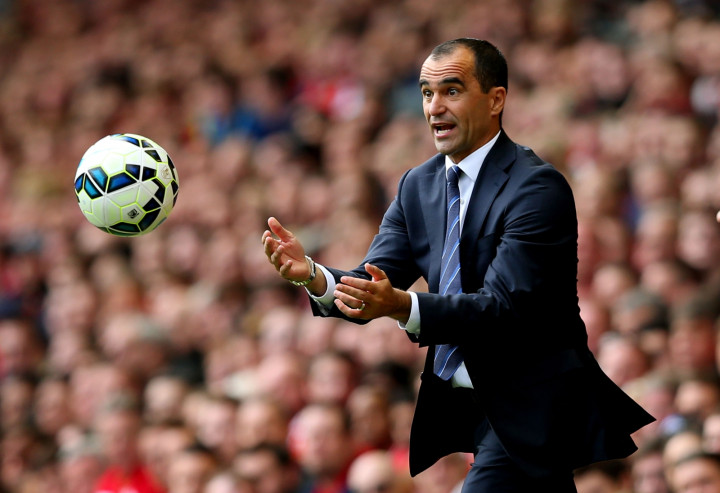 Roberto Martinez believes Everton deserved a better result during their 2-1 defeat at Tottenham – claiming his side were denied a clear penalty in stoppage time.
Kevin Mirallas gave Everton an early lead following a sensational goal but Tottenham managed to come from behind to secure the three points thanks to goals from Christian Eriksen and Roberto Soldado.
Martinez was frustrated because he believed Everton played well enough to secure at least a point, but also because referee Michael Oliver chose not to award a spot-kick in stoppage time when the ball appeared to brush the hand of centre-back Federico Fazio following Romelu Lukaku's header.
"The arm was not in a natural position, and you feel it's a day that none of the breaks you need at times went in our favour to get a positive result," Martinez said.
"I thought the performance was good enough. It's a split decision and you understand that the referee needs to be in the perfect position to spot that. But clearly when you see that Romelu's got a header and the ball just stops, obviously there's been contact.
I could see from my position that it was handball – I didn't know if [the arm] was in a natural position or not, but obviously in the replay you can see it's not in a natural position.
"It should have been spotted because he should have a clear view of where the contact was."
Even though the result leaves Everton tenth in the table and three points behind Spurs, Martinez was happy with the team performance.
"It's one of those performances where it's really difficult to take the result at the end," he explained. "I think it was a very harsh result because we performed really well.
"Remember, we are away from home, we're facing a team with a lot of individual quality, but once we scored the first goal – which is the hardest moment in the game – I thought for five, 10 minutes we couldn't impose ourselves and take the game away from Spurs.
"Obviously the result is what matters, but the performance today should have reflected a different scoreline if we could have had better control once the first goal went in."