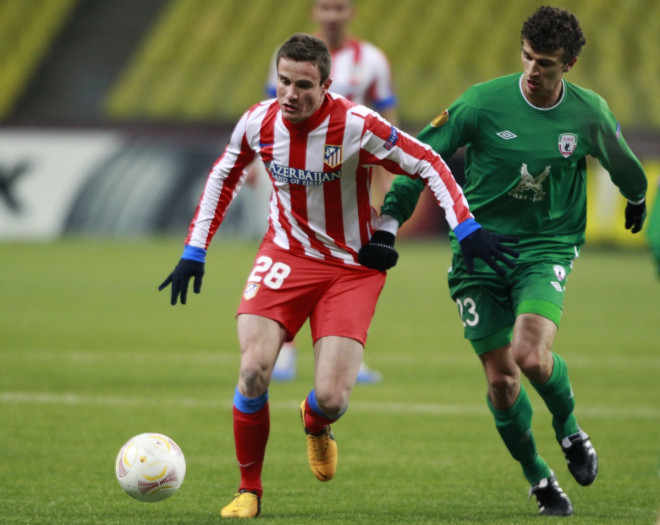 Everton have joined Manchester City, Arsenal and Liverpool for the pursuit of Atletico Madrid midfielder Saul Niguez, according to the Daily Mail.
The player was sent on a year-long loan to Rayo Vallecano this season, where he has excelled in midfield and has caught the eye of clubs across Europe.
Everton are now looking at a loan deal for the player, having benefitted from the presence of Gareth Barry, Gerard Deulofeu and Romelu Lukaku at Merseyside over the length of the season.
However, the midfielder has recently signed a contract extension with Atletico, tying his future in Spain till 2018 while inserting a £19.5m release clause in his contract.
Liverpool have reportedly had a talk with his father regarding a transfer but nothing has been decided as yet. It will be a major coup for Everton if they can persuade the midfielder to ply his trade with the Toffees and help them challenge for a place in the Champions League next season.
Meanwhile Everton manager Roberto Martinez has urged the fans to be patient on Ross Barkley as the midfielder prepares himself to make his maiden journey to the World Cup.
The 20-year-old has been a revelation this season, scoring brilliant goals and scaring defences with his pace in midfield and is being touted as England's saviour in Brazil.
"We shouldn't expect Ross Barkley, at the age of 20, to go into a World Cup and be someone who has to win games single-handedly. That would be very wrong," Martinez said.
"What is important is, as a nation, we have a responsibility to look after a young man who goes to the World Cup with the only intention of helping England be as good as they can.
"He is still young and we have to protect him. If we protect him well we are talking about a potential world-class talent," he added.