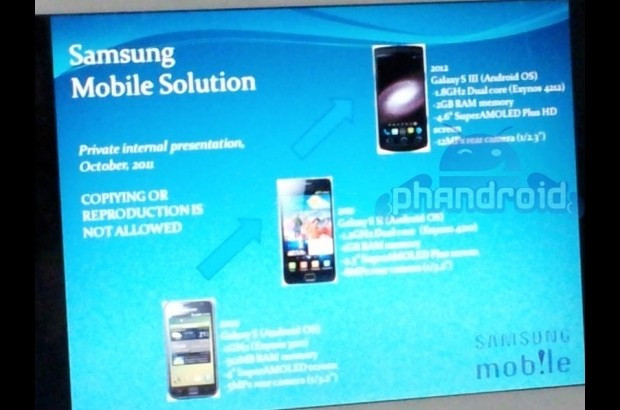 A new "leaked" image of Samsung's currently unconfirmed Galaxy S3 smartphone has emerged leading to speculation that Google's Nexus Prime may not be the first smartphone packing the company's fabled Ice Cream Sandwich operating system.
The leaked image first appeared on Android site Phandroid alongside a slew of claims regarding the device tech-spec. It showed what was allegedly a slide from an internal Samsung Mobile presentation. In it the slide listed the Galaxy S3 claiming it would pack an impressive 4.6 inch screen and speed 1.8 GHz processor.
The slide also alleged that the, currently unconfirmed, Galaxy S3 would house a powerful 12 megapixel camera and boast 2GB of RAM.
The screen of the smartphone also showed a display with five tray icons, leading to speculation that it would be powered by Google's forthcoming Android Ice Cream Sandwich OS.
The new "leak" runs contrary to the previous consensus that Ice Cream Sandwich would be released alongside Google's next Nexus, the Nexus Prime.
Google were expected to unveil the OS at the company's Unpacked event. However, the theory soon fell apart after Google and Samsung cancelled the event, reportedly out of respect for archrival Apple's deceased co-founder Steve Jobs.
Despite the event's cancellation, rumours regarding Ice Cream Sandwich's release have continued to surface. Recently a number of supposed leaked images of the OS have appeared on numerous tech sites.
The pictures originally were posted by TechCrunch. The images allege to show a number of different pages on the future Android version.
Samsung has not released any official information regarding the Galaxy S3.