The operators of the biggest dark web drugs marketplace, Evolution, have shut down the site and disappeared with millions of bitcoin belonging to users. Since the demise of the original Silk Road in 2013, there have been a number of dark web marketplaces vying to take the crown as the number one destination for drug buyers.
In the last year, that title has been claimed by Evolution, which launched in January 2014 and quickly grew to be seen as the most stable and secure place on the dark web to buy anything from drugs to guns and passports.
However, on 17 March 2015, Evolution disappeared, along with the millions of bitcoins it held belonging to customers and vendors. Over the last few days, there had been rumblings that something was amiss with the operators of the website stopping all withdrawal of funds due to what they said was a technical problem.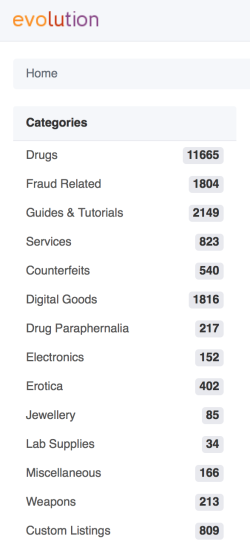 However in a post on Reddit, the site's public relations manager, known as NSWGreat, confirmed that the site's administrators, known as Verto and Kimble, had shut down the site's servers and taken all the money held in escrow on the site.
"I have admin access to see parts of the back end, the admins are preparing to exit scam with all the funds. Not a single withdrawal has gone through in almost a week. Automatic withdrawals has been disabled which is only doing on rare occasions," NSWGreat said.
Life in danger
Another user pleaded with the administrators of Evo (as the site is known by users), claiming this was putting his life in jeopardy: "Don't do this to us Evo staff please. I owe money and I can't pay if this is true. My life's in danger. Please don't be true please".
NSWGreat admitted that he personally had $20,000 in escrow on the site adding in a subsequent post that in total he lost over $60,000. The escrow facility on the site was seen by many as a valuable security mechanism which meant that the bitcoin paid by customers for merchandise was held by the site's administrators until the goods are delivered.
The system relies on trusting the site's administrators however, which appears to have been an unwise choice. While many dark web users worry about law enforcement agencies taking down websites and confiscating their money, the disappearance of Evolution will make waves across underground marketplaces and will likely lead to increased paranoia.
"I'm so sorry I couldn't warn you all earlier, I feel responsible for all this pain and suffering. I don't even care that I lost money. So many lovely people I've met over the past two years; vendors and customers alike have been hit just as hard as me but its ruined peoples lives," NSWGreat added.
$12m in bitcoin
Dark web explained
The dark web is a section of the internet that is not indexed by search engines such as Google, and not easily navigated to using a standard web browser.
Accessing the dark web requires specialised knowledge and software tools. An example of this is content only accessible by using the Tor software and anonymity network, which while protecting privacy, is often associated with illicit activities.
According to some Reddit posters, the bitcoin wallet which is being used by Verto and Kimble has been identified and has been receiving funds consistently since the weekend and currently holds over 43,000 bitcoin, which at today's exchange rate is worth over $12m. However, beyond the assertion of Reddit users, the ownership of this wallet has not been verified.
Vero and Kimble would have been earning a sizeable amount of money from the commission they earned on each transaction (between 2.5% and 4%) considering the level of products it had on sale. Calculations made by security expert and dark market aficionado Greg Jones for Forbes, suggested the pair were raking in over $150,000 a month in commission - but it seems that was not enough.
Launched on 14 January, 2014, Evolution was considered the largest dark web drugs and gun market - as well as the most stable. It grew quickly and by November 2014, when Operation Onymous was carried out by law enforcement agencies around the world, it had more than 15,000 items for sale, including:
11,600 drugs;
540 counterfeit documents such as passports and driving licenses;
213 weapons including an Uzi submachine gun with ammunition;
34 listings for laboratory supplies such as chloroform; and
a machine capable of manufacturing 3,000 pills per hour.
On 7 November 2014 Operation Onymous saw 400 dark web sites taken offline in a coordinated attack on illegal marketplaces, with the most high profile site to be affected being Silk Road 2.0 which had appeared in the wake of the shut down of the original by the FBI in 2013.