Ex-Chelsea and AC Milan football legend George Weah to run for president of Liberia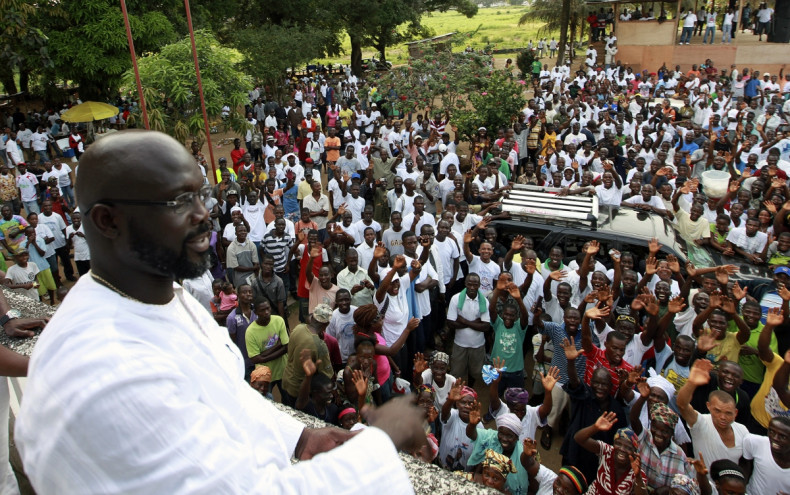 Former Liberian footballing legend George Weah, once of Chelsea, Manchester City, AC Milan and Monaco, will run for president of Liberia for a second time. The former Ballon d'Or winner and FIFA World Player of the Year 1995, is already a senator in the African nation and failed in a previous presidential bid in 2005 when he was defeated by incumbent president Ellen Johnson Sirleaf.
But under Liberian law Sirleaf must step-down from office in 2017, after serving two terms in the impoverished west African state which fought two brutal civil wars from 1989 and 2003. More recently, Liberia suffered the second highest number of reported cases of the deadly Ebola virus (10,678) with the most deaths (4810).
Weah, who belongs to the opposition Congress for Democratic Change (CDC) party, addressed a crowd in his home city of Monrovia to tell supporters of his "vision" to transform the country. He said he had been a "victim of poverty" like many of his supporters.
Weah is regarded as one of the greatest footballers of the 20<sup>th century and took to becoming a UN goodwill ambassador before he finished his footballing career. He is already a senator of his home province of Montserrado, which includes the capital Monrovia, where he grew up in the slums of Clara Town. In 2011 he ran for vice-president under Winston Tubman, but lost.
He told his crowd of supporters: "Our gathering here today is about the future of our country and our people. In the last ten years our people have continued to live in abject poverty, education a mess, health delivery system a disaster, electricity and pipe-borne water elusive."
"Like many of you, I have been a victim of poverty," he said. "There were times I didn't have school fees."
Before he spoke to the crowd he was presented with a petition asking him to run. During his speech Weah pledged to increase the national budget, and work towards religious harmony, and support vocational education.