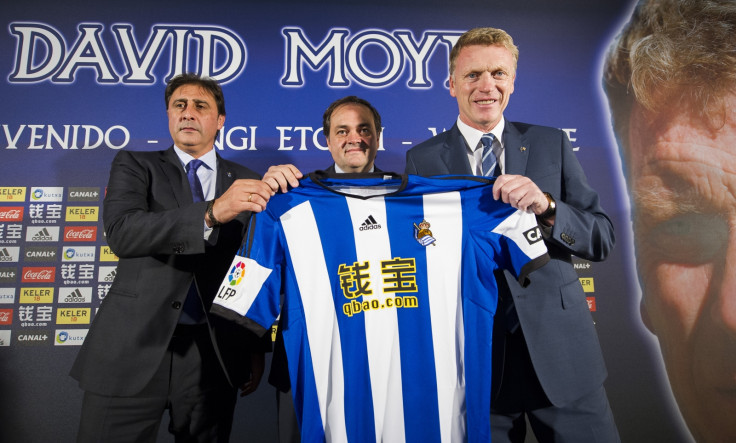 Former Manchester United boss David Moyes has suggested Real Sociedad are still adapting to his management methods after securing another draw in the big Basque derby against Athletic Bilbao.
The Scot took charge of the Spanish side a month ago with the aim of overturning a slow start to the campaign under Jagoba Arrasate, with the club lying 15th in La Liga at the time, with just two victories from their first 11 games.
Real Sociedad have since showed signs of improvement but Moyes is yet to make a big impact in terms of results – with his side 14th in the table, just four points away from the relegation places.
The former United and Everton boss has only secured five points from 12, with one win, two draws and one defeat from four games.
After securing a goalless draw against Deportivo de la Coruna in his La Liga debut, Moyes' side beat Elche 3-0 before suffering a disappointing 4-0 defeat at Villarreal.
Moyes had the perfect chance to put the Villarreal defeat behind him on 14 December, with Real Sociedad hosting rivals Athletic Bilbao in the Basque derby.
But even though ex-Arsenal forward Carlos Vela gave Moyes' side the lead early in the game with a good header, Oscar de Marcos denied them the win with an equaliser in the second half.
Speaking about the draw after the game, Moyes said: "We need to become more consistent and correct small mistakes.
"We need to move the ball with more precision and maintain our intensity. We achieved this in the first period but struggled to do so in the second half. I enjoyed my first derby here but am annoyed with the result as I felt it's a game that we should have won.
"We played well in the first half but it's true that we didn't maintain that form after the break. It's a shame as Athletic were down to just 10 men [following Aymeric Laporte's dismissal] and we could have snatched it at the end."
Nevertheless, Moyes believes his side deserved the victory and were much better than how they performed in the defeat to Villarreal.
He said: "The energy level dipped off. We need to play with the same intensity for the full 90 minutes, not just 40 or 60 minutes. I told the players that playing as we did in the first half, we would have won the game. At the same time, I saw an improvement from the Villarreal match, were growing together."