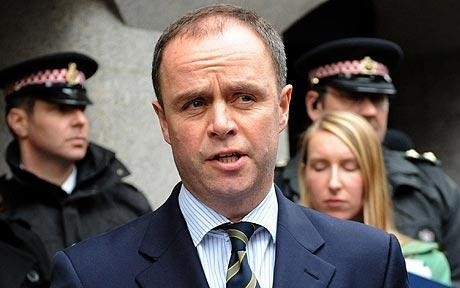 Bahrain has appointed the former Metropolitan Police assistant commissioner, John Yates, to oversee reform of the police force, following reports of human rights abuse.
Yates, who resigned from his post in the Met Office in July following his alleged role in the News of the World phone-hacking investigation, has been asked to overhaul the police service to ensure its procedure meets international human rights standards, reported the Daily Telegraph.
The former Met police assistant commissioner, later cleared of any misconduct by watchdog the Independent Police Complaints Commission, was appointed after a report found evidence of human right abuse including excessive torture and force used during Pearl Revolution this year in Bahrain.
The report said Yates had agreed to join the forces along John Timoney, former head of Miami police, after Bahrain announced this week that Timoney would lead a team of American and British advisers training the Gulf kingdom's forces after criticism of the violent crackdown against pro-reform protesters.
Drawing experiences from his stint in the Met Office and from working on community policing programmes with the Jamaican police, Yates said: "Bahrain's police have some big challenges ahead, not dissimilar to those the UK itself faced only a couple of decades ago, but I have been impressed that the King (Hamad bin Isa al-Khalifa) is doing the right thing by pressing on with big reforms," he said.
"This is a big challenge which I will undertake with a great reforming police officer like John Timoney."
"I look forward to speaking to Bahrain's chief police officers, going out with them on the streets to see the challenges they face, seeing what structures they have in place and helping them to deal better with public order, arrest and detention issues," he further added.